Students enjoy first outdoor spring carnival since COVID
As a result of months of planning, the first outdoor carnival since 2018 brought students joy, relaxation and fun in the sun on May 13. 
Due to the 2019 carnival rain out and the cancellation of the last two carnivals because of the pandemic, this was the first traditional spring carnival the whole student body has experienced. Student Council and specifically the events committee worked hard to coordinate food trucks, inflatables, yard games and much more.
Student Council President junior Ben Schanzer was a vital part to the planning process to ensure a fun experience.
"Now that everything is slowly going back to normal, we especially wanted to give the seniors a nice farewell as they have not been able to take part in much due to COVID," Schanzer said. 
In order to pull this off, Schanzer was responsible for managing the estimated $2500 budget. Schanzer found that sponsors such as Wegmans, who donated $1000 worth of gift cards, and Lowe's Variety Meat Shop were key to keeping costs low.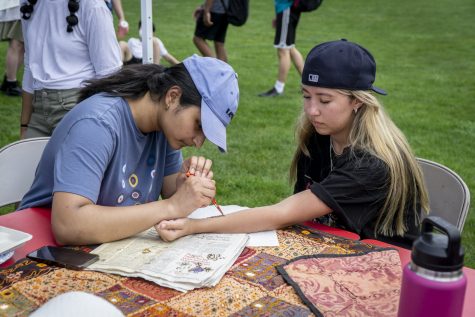 "Our teacher staff played a big part in running the various events that were present at carnival," Schanzer said. "Mr. Godbout and Mr. DeCosmo were our grill masters of the day where they made burgers, hot dogs and other barbecue items that the students were able to enjoy."  
With the help of Student Council adviser John Barry, Schanzer and the rest of the Student Council were able to use his institutionalized knowledge of past spring carnivals to make this year's just as special as they were before COVID-19. 
"Carnival brings a sense of pride to the student body," Barry said. "We work to give students an inclusive experience, one where they can say there was something for me at carnival today."  
Many inclusive events, both on the fields and in the building, were offered such as a photo booth, various yard games and sports, inflatable games and waterslides, trivia in the auditorium, robotics demonstration and operation, Improv Show and live music, and henna and caricatures.
Events Committee Chairperson senior Ava Ellsworth was the backbone to coordinating the events that were present at carnival. 
"Most of the events were hosted by the clubs of Algonquin," Ellsworth said. "Clubs either hosted yard games, sports tournaments or sold food, as well as took on the responsibility of the budget for their own event." 
According to Ellsworth, carnival has had a large positive impact on the school community.
"I think carnival is unifying for the school because all clubs are able to come together and participate in a full-school event to use it to promote their club but also to just have fun," Ellsworth said.
Longtime Algonquin community member Dick Walsh looks forward to carnival every year as he has attended almost every single one. 
"As time went on, some things were eliminated, such as the dunk tank, and some things were added such as ice cream trucks," Walsh said. "As long as the kids have fun, it will be a good day."