The Ultimate Girl Scout Cookie Guide
Recently, you might have noticed the girls in brown and green uniforms huddled outside grocery stores or knocking on your door, signaling the start of Girl Scout Cookie season again. In this guide to everything you need to know about Girl Scout Cookies, we will discuss the different bakeries and provide a rundown on the cookies.
Some people call the popular tan cookie with a layer of caramel sprinkled with coconut flakes and striped with chocolate Caramel deLites, while others call them Samoas. They're the same thing, right? Not quite. Girl Scout Cookies are produced by two different bakeries: ABC Bakers and Little Brownie Bakers. The oldest bakery, ABC Bakers (a subsidiary of Interbake Foods) is based in Indiana, while Little Brownie Bakers (a subsidiary of Keebler) is based in Kentucky. Together, they produce over two million cookies each year for the country to enjoy. 
Although some cookies, like Thin Mints, may share a name, there are slight differences between them depending on which bakery produces the cookie. On the other hand, other cookies, such as Lemonades from ABC Bakers and Toffee-tastic from Little Brownie Bakers, are only available from one bakery.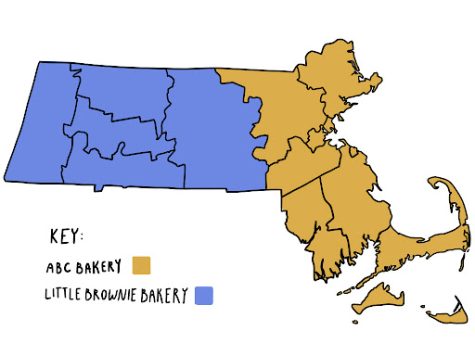 Here, in the Boroughs, we can get the best of both bakeries. The Girl Scouts of Eastern Massachusetts (which Southborough troops are part of) sell cookies from ABC Bakers, while the Girl Scouts of Central and Western Massachusetts (which Northborough troops are part of) provide cookies from Little Brownie Bakers.
The Best of the Bakeries' Offerings:
Thin Mints: 5/5
Both ABC Bakers' and Little Brownie Bakers' versions of Thin Mints are amazing, and they taste even better frozen. Both are a round chocolate cookie with a refreshing minty kick. Thin Mints produced by ABC Bakers are crispier and mintier than Little Brownie Bakers, whose Thin Mints have a richer, smoother chocolate flavor. Not too sweet, you can eat many before getting sick of them. We prefer the mintyness of the ABC Bakers version, but both are excellent.
Caramel deLites (ABC Bakers)/Samoas (Little Brownie Bakers): 5/5
On the sweeter side, if you love coconut, caramel and chocolate, Caramel deLites/Samoas are the perfect combination of flavors for you. Caramel deLites have a soft, milky caramel layer, while the Samoas feature a more toasted coconut flavor. The base is a vanilla cookie, and whether you have a Samoa or a Caramel deLite, both are a delicious treat on their own!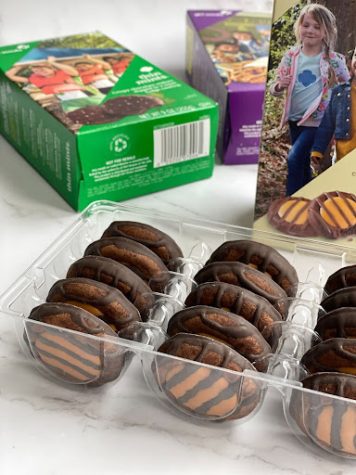 Lemonades: 5/5
While they may not be as popular, Lemonades are the perfect melody of lemon and sugar in a cookie. The cookie is decorated to look like a lemon and composed of shortbread coated in lemon icing on the bottom, but they are only available from ABC Bakers. (Little Brownie Bakers has recently released a similar cookie, Lemon-Ups, that are covered in a lemon glaze. They don't match up to the original, since they lack the necessary contrast between shortbread and lemon flavor.)
The Worst: 
Shortbread (ABC Bakers)/Trefoils (Little Brownie Bakers): 2/5
Meh in a cookie. They have no special flavor to them, are rather dry, but would maybe work with a cup of tea.
Peanut Butter Sandwiches (ABC Bakers)/Do-Si-Dos (Little Brownie Bakers): 2/5
Again, these cookies are edible but very underwhelming. Both bakeries' versions are similar, both being rather dry and one-dimensional in flavor, and you would probably need a glass of water after eating one (unless you really love peanut butter).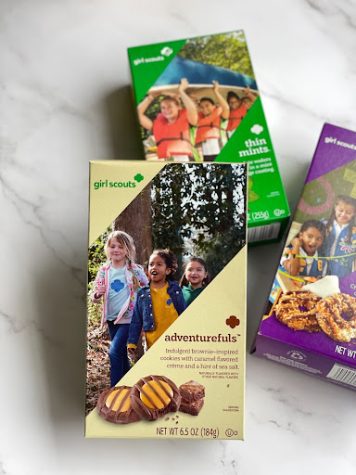 The New Cookies on the Block:
Adventurefuls: 3/5
These are the new brownie-inspired Girl Scout cookie released this year by ABC Bakers. We would eat these if they were free, but we would not buy them. These cookies are much harder than expected; you would think they are crispy on the outside with soft and gooey caramel on the inside like a brownie, but instead, the caramel was hard and rather tasteless. 
S'mores: 2/5
Both ABC Bakers and Little Brownie Bakers have released their own S'mores cookie. The ABC Bakers version is coated in chocolate, and Little Brownie Bakers has a sandwich cookie version, yet both are very underwhelming. The cookies are flavorless and have nothing special to them, all you can really taste is sweetness. 
The Forgotten One:
Thanks-a-Lot: 4/5
Only available from ABC Bakers, these often forgotten cookies should not be overlooked. Deliciously simple, the shortbread cookie coated with a layer of chocolate on the bottom features "thank you" messages in various languages. 
Which of these is your favorite Girl Scout cookie?
Sorry, there was an error loading this poll.