Patriots 2022 Draft Review
Holes are filled, but does the team lack elite talent?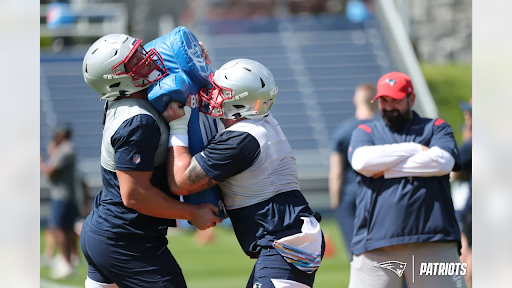 The 2022 NFL Draft has come and gone. While it's a little early to look back on it, NFL fans have already made their voices heard, so we thought it would only be fair if we wrote about our thoughts on each Patriots pick. Bill Belichick always makes some selections that have people scratching their heads, but most fans have continued to trust the process for years. We're left with a team that has good depth at every position but lacks elite talent. Are this year's picks smart moves for Belichick's favorite players or simply massive reaches? We've reviewed each pick below with grades based on four criterias: team need at the player's position, where they got the player compared to where they should have gone, fit with the team and whether there were better picks that could have been made.
Round 1, Pick 29: Cole Strange, OL, Chattanooga
Our Grade: C
The Cole Strange pick created lots of confusion amongst fans and media alike, and while we don't fully understand it either, we are able to offer a possible defense for the selection. While Strange certainly qualifies as a reach at the spot he was picked, we do respect Belichick and the Patriots' front office for going against consensus, targeting a specific player and picking him early. So, even though the Strange pick doesn't look too great now, his play on the field will obviously guide future evaluations. And, at the very least, we applaud the Patriots for being bold and going after a guy who most mock drafts had as a third round pick.  –Tucker Paquette
Round 2, Pick 18: Tyquan Thornton, WR, Baylor
Our Grade: B-
We have to mark down this pick to an extent because there were better players on the board, including better wide receivers such as George Pickens and Alec Pierce. However, we don't mind this pick too much, as Thornton can fill two roles on this team. We expect him to mix into the WR rotation with DeVante Parker, Jakobi Meyers, Kendrick Bourne and Nelson Agholor while also playing a role on special teams, where the Patriots have lost many players. While they did acquire Parker, the Patriots still needed additional WR depth which Thornton brings. He played well at Baylor in a tough Big 12 with lackluster QB play, both in the shadow of Denzel Mims his first two years and as their #1 receiver his last two years. We trust him to be a solid player at the NFL level catching passes from Mac Jones. The question is whether the Patriots missed out on a superstar for a role player.  –Andrew Roberts
Round 3, Pick 21: Marcus Jones, CB, Houston
Our Grade: B+
Several reputable media outlets say this was New England's best pick of the entire 2022 draft, and we agree. The Patriots had a huge need at cornerback after the departure of cornerback J.C. Jackson in free agency this offseason, and Marcus Jones was a good value pick in the third round. Arguably the most exciting thing Jones can bring to the Patriots is versatility. Not only can he play cornerback, but he is also a talented kick and punt returner. We know Belichick adores players who can fill multiple roles on his team, and that's exactly what Jones can do. We expect him to be a key contributor for the Patriots in his rookie season, and beyond.  –Tucker Paquette
Round 4, Pick 16: Jack Jones, CB, Arizona State
Our Grade: C+
The second of two consecutive cornerback selections for New England, Jack Jones is a player who is shorter in stature, but talented nonetheless. Again, due to the team's lack of talent at the position, Jones will likely have ample opportunity to earn meaningful snaps in his rookie campaign. If he does well in training camp and in the preseason, and veteran cornerbacks don't step up their game, he could even be a starter in Week 1. We're not quite as high on this pick as the Marcus Jones pick, simply because we believe Marcus is the better player of the two Jones', but we believe Jack Jones has the chance to be a helpful player, too. –Tucker Paquette
Round 4, Pick 22: Pierre Strong Jr., RB, South Dakota State
Our Grade: C-
We like Strong Jr., and we think he can be a good, solid player for New England's running back corps. However, our issue with the pick is the Patriots' continued pattern of spending early draft choices on running backs. In the past four years, they have picked Damien Harris, Rhamondre Stevenson and now Strong Jr. all in the first four rounds. If the Patriots were spending important draft assets on a more valuable position such as wide receiver or defensive line, then that's an entirely different story. But, running back has proven to be a position where lesser-known players can make a sizable impact on competitive teams. This could be seen on good Patriots teams a few years back with Dion Lewis playing an important role. Because the fourth round is too early for yet another running back, this selection gets a 'C-'.  –Tucker Paquette
Round 4, Pick 32: Bailey Zappe, QB, Western Kentucky
Our Grade: C
Don't get us wrong, Zappe is a good quarterback who deserved to be drafted. It was still a head scratcher when the Patriots called his name just a year after spending their first rounder on Mac Jones. We don't think Zappe poses much of a threat to Jones, as he profiles more as a backup quarterback and will likely play that role on this team. We just don't understand why the Patriots would invest in a backup QB when they could be adding potential rotational players or starters on their front seven. It would look even worse if Sam Howell, the QB the Commanders took in the fifth, turns out to be Carson Wentz's successor in Washington. –Andrew Roberts
Round 6, Pick 4: Kevin Harris, RB, South Carolina
Our Grade: F
We can understand to an extent why the Patriots would take one running back. Strong is a good prospect and it never hurts to add a young running back. However, we see absolutely no reason why Bill Belichick should be wasting draft capital on a second. First of all, was Harris even worth being drafted by any team?  Harris last put up impressive numbers in 2020 when COVID-19 may have impacted the outcomes of the games. He regressed majorly in 2021, rushing for almost 500 fewer yards and 10 less touchdowns despite playing two more games than the last season. Whatever Belichick's vision is for Harris, we just do not know what he's thinking and cannot give any credit to the Patriots for this one. We know it's a sixth round pick, but they swung and missed here.  –Andrew Roberts
Round 6, Pick 21: Sam Roberts, DL, Northwest Missouri State 
Our Grade: B
I sure hope this guy stays on the team, because I've always wanted a Patriots jersey with my last name on it and I never got one when Elandon Roberts was here. All jokes aside, this was a much better way to spend a 6th round pick.  If Roberts outperforms his draft stock, he could have the potential to compete for playing time on the interior and more likely on special teams. We cannot deny that Belichick's ability to draft players who can make a difference in multiple components of the game is extremely impressive. Roberts did not receive as much attention as other prospects like him as he played at a D2 school. While it may be a tougher adjustment to the NFL, he has potential once he blossoms.  –Andrew Roberts
Round 6, Pick 31: Chasen Hines, OL, LSU
Our Grade: B-
While we were lower on Strange than most, Strange and Hines were actually in a similar spot on my draft board. This is how you draft offensive linemen for value. This selection reminds me a lot of the Michael Onwenu pick in the 2020 draft, as the Patriots take an underrated, NFL ready guard without having to spend much draft capital. The problem here is considering the Patriots already took Strange, it will take a lot for Hines to take his place in the lineup. If the Patriots truly believe in Strange, they wouldn't be investing in another guard here, so this pick contradicts what they did on Day 1.  –Andrew Roberts
Round 7, Pick 24: Andrew Stueber, OL, Michigan
Our Grade: C
As a seventh round draft choice, Stueber could be considered as more of a long-shot to make a tangible impact in the NFL. It's challenging to give any seventh round pick too high of a grade, because they went in the seventh and final round for a reason, but offensive line depth is a valuable commodity in the NFL. When looking at it through that lens, this selection does make some sense. The Patriots have also picked a number of Michigan players in recent years, and considering the success of players from that school, such as the aforementioned Onwenu, there becomes more hope that Stueber can be a useful player for the team.  –Tucker Paquette
Our Overall Grade: C+
We think this is a fair grade for a team that filled most of their major needs but disregarded value in most of their selections. You could definitely argue that there was a more talented player available than each of the guys the Patriots picked. At the same time, this team looks filled out at wide receiver, cornerback and on the offensive line, the places they needed it most. The Patriots should be a competitive team, but in a tough AFC, competitive might not be enough to win.  –Andrew Roberts