Memorial Day assembly shows students veterans' lives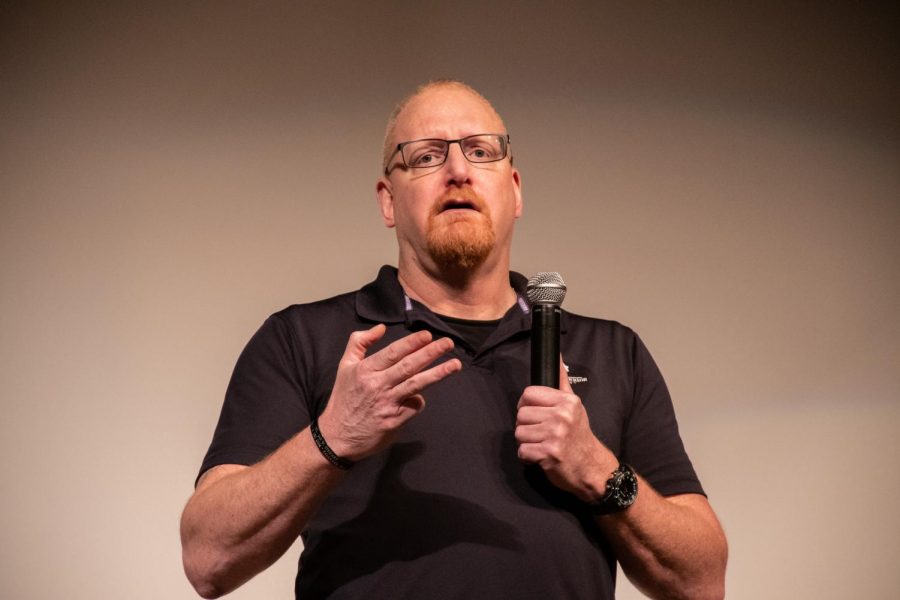 "The purpose of Memorial Day is to remember those who raise their hands, who swore to defend this country from all enemies both foreign and domestic," Dan Miller, a veteran who regularly speaks on behalf of Wounded Warriors said. "Those individuals that have put on a pack and picked up a rifle and went forward into combat, knowing very well that they might not come home.  They didn't do it with a smile on their face, but they did it with their heads held high, and they moved forward to the sounds of the gun and they fought for what they believed in. The rights that we hold so dear in this nation."
His words echoed across a crowd gathered in the JFK auditorium for Operation Tomahawk's second annual Memorial Day assembly. The assembly, with a purpose of raising awareness of issues veterans face at home, was one of the events the club planned for the week leading up to Memorial Day and featured speeches from Miller and Staff Sergeant Tyler McBroom.  
McBroom spoke first, keeping his speech short and simple,  starting with the importance of Memorial Day to him and fellow soldiers.
"Every day we think about the sacrifices they give and I urge you to do the same," McBroom said. "It takes really little to remember those who served."
McBroom went on to explain why he is grateful for fallen soldiers.
"It's a sobering thought to think that [soldiers have given up their lives for our country], but it's also really encouraging to know that there are people that are willing to go out and lay down their own lives for this country," McBroom said.
After McBroom's speech, Miller, the main speaker, took the stage to tell his story. Miller decided to join the military straight out of high school because he felt it would be the best way to make a difference.  Shortly after, he was deployed to serve in the Gulf War.
"The first time someone took a shot at me, and that round zipped past my head, reality struck," Miller said. "Was I afraid? Afterwards, yes, because somebody tried to kill me, but I was proud because when I came home I was proud I had been a part of that. I was a part of history."
After his time in active duty came to a close, Miller enlisted in the reserves and became a police officer in his home city of Chicago. His reserve unit was then called into active duty to Iraq in 2007. According to Miller, they were deployed to an area dubbed the Triangle of Death.
"It was the most violent place in Iraq," Miller said. "Every day, we got in gunfights….And I got to see what true brutality would do to a man."
In that deployment, Miller lost 16 members of his troop, which to this day has affected him.
"There's not a day that goes by that I don't think about them," Miller said. "Memorial Day happens for me every day because every day I think about them. I think about the fact that these young men, their life was cut short."
Miller concluded his speech by  talking about his own ailments from war: PTSD, minor brain issues and a metal plate placed into his spine. The last two happened after an IUD went off in front of his vehicle.
After the two speeches, the audience was given the chance to ask questions. In response to a question, McBroom talked about an elementary school that sent monthly care boxes to his troop.
"Once a month, we got a big pile of boxes that always had some cards from kids….and they always usually had boxes of rice krispy treats," McBroom said. "They were always gone very quickly….Whenever we got a little piece from back home, it reminded us what we were fighting for."