Operation Tomahawk hosts Murph Challenge to raise awareness for veterans
Students, faculty and community members gathered at the football field on Sunday, May 26 to participate in the Murph Challenge in honor of Navy SEAL Lt. Michael Murphy, who died in Afghanistan in 2005.
The event, which occurs across the United States, was hosted at Algonquin by Operation Tomahawk. Its goal is to raise money for the Michael Murphy Education Fund and spread awareness about the soldiers who give their lives for the country.
"There are so many people who sacrifice their lives in order for us to have the freedom to do what we want with ours," member of Operation Tomahawk and senior Juliana Ellsworth said. "Raising awareness and showing our appreciation for the people who do sacrifice so much, for example, Mike Murphy…is important."
Participants in the challenge ran a mile, followed by 100 pull ups, 200 pushups, 300 squats and then another mile run: a workout Murphy routinely performed in a 20-pound vest while he served in Afghanistan.
"[Murphy] was awarded the Medal of Honor because he sacrificed his life in order to call in support for his team," Operation Tomahawk president and senior Allan Bramhill said. "He's an outstanding human being, and [the challenge] is a good way to honor him…It's a way to show kind of what he went through too."
In order to become an official host, Operation Tomahawk gave $250 to the Michael Murphy Education Fund. They collected more donations at the event which will also go towards this fund.
The Murph Challenge is the last of a series of events that Operation Tomahawk organized throughout the week in honor of Memorial Day. According to adviser Gina Johnston, the club did not get the turnout they had hoped but will continue to find ways to raise awareness.
"That was kind of disappointing we didn't get enough turnout on [the 22 Pushup Challenge]," Johnston said. "…And then we were supposed to have a basketball tournament, and we didn't get enough sign ups for that because people had to pay for it. Kids don't really want to pay extra money. So it's a learning process."
Despite these setbacks, Bramhill is hopeful that Operation Tomahawk's efforts did have some impact on the school.
"I hope it opened people's eyes a little more and made them think for even a few seconds about what it really means and what our freedoms cost in terms of the people we send off," Bramhill said.
The club plans to continue hosting the Murph Challenge in future years. They are optimistic that, with better publicity, more people will attend their events in honor of the country's veterans.
About the Contributor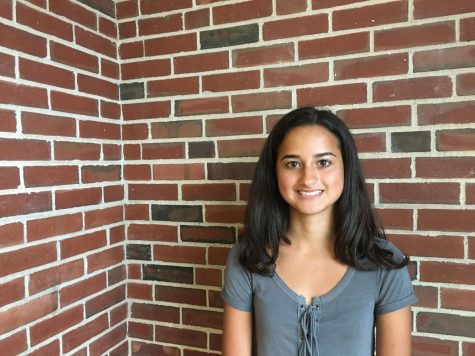 Gabriela Paz-Soldan, Editor-in-Chief
Gabriela started writing for the Harbinger at the beginning of her sophomore year through Journalism class. She is currently Editor-in-Chief.