Operation Tomahawk plans events to commemorate veterans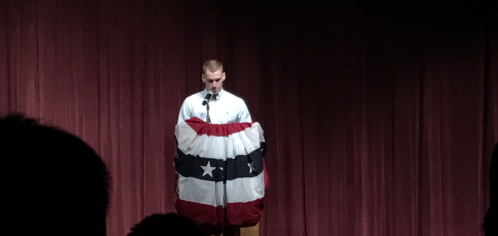 In the days leading up to Memorial Day, Operation Tomahawk has organized several activities to honor veterans. The goal is to raise awareness for those who have sacrificed their lives for the country.
The club planned the 3v3 basketball tournament which was intended to take place on May 17 during carnival, the Mission 22 Push-up Challenge which took place during period three on May 20, the Wounded Warrior Project which is an assembly that will be held on May 24 and the Murph Challenge which will happen on May 26.
"The Mission 22 Push-up Challenge is going to be held on Monday the 20th where students can come down and do 22 push-ups," adviser Gina Johnston said in the days leading up to the event. "The purpose of this is to represent the 22 veterans who commit suicide every day."
Member of the club and senior Abby Hurley was disappointed in the turnout for the Mission 22 Push-up Challenge.
"We had the 22 Push-up Challenge which was intended to fundraise and raise awareness [about the 22 veterans who commit suicide every day], which is an issue many don't know about," Hurley said. "It's disappointing only 40 showed up in a school of 2,000."
Furthermore, Operation Tomahawk was forced to cancel their 3v3 basketball tournament, which was supposed to be held during carnival, for the lack of participation. Hurley is concerned about her fellow classmates' lack of involvement in honoring the veterans.
"I think we need to realize what is important," Hurley said.  "A lot of people here take for granted what they have and are lucky to have. This is a subject that is often forgotten and ignored, and it's not okay."
Focusing on the upcoming activities, Johnston hopes the veterans assembly held during fourth period on Friday, May 24 will help raise awareness in the lives of returning veterans and the adjustments they have to make.
"Friday we have the Wounded Warrior Project, and a veteran and marine are coming to speak," Johnston said. "This is to let kids know about what happens to soldiers during war and how when they come home they have to live through all the things they went through. I hope we can show them how we as civilians will support them."
Club leader and senior Allan Bramhill also hopes for students to come on Sunday, May 26 and show support by doing the Murph Challenge.
"The Murph Challenge is an intense workout that is in honor of Navy Seal Lieutenant Michael Murphy who died in Afghanistan in 2005," Bramhill said. "When you're going through this difficult workout and you aren't even halfway there you think about how he gave his life for us, and then you realize this workout is nothing in comparison to what he did."
Ultimately the goal of all of these activities is to help students recognize what the veterans have done for the country.
"A lot of this is awareness and fundraising," Johnston said. "We have students who join the army and veterans who live in our community. This is a way to thank them because they are doing things that most of us can't imagine doing."