Students scramble to win Senior Assassin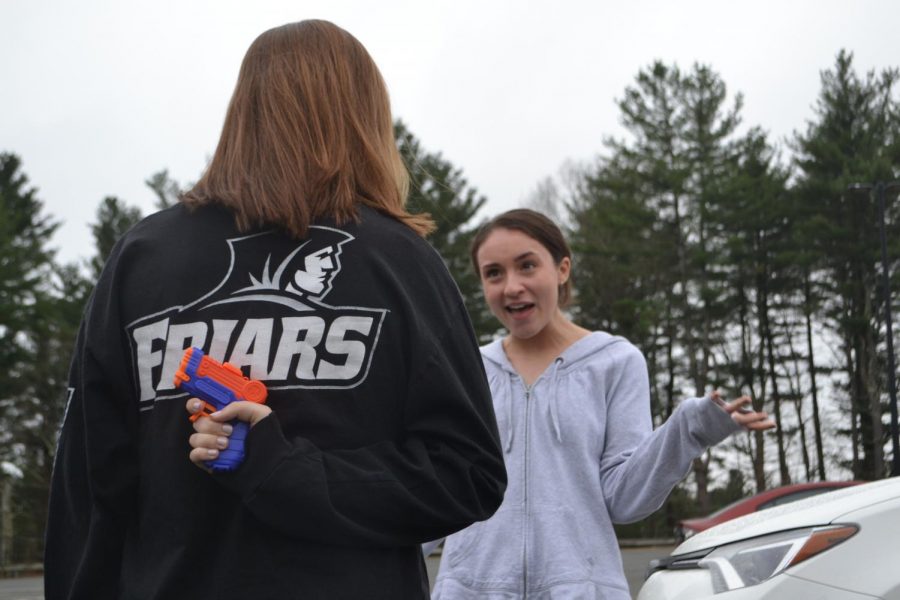 The time for senior assassin is here. Grab your water gun, and drop all your plans. You now have a reasonable excuse to stay at home, and it can be backed up by the simple phrase, "I can't go out, it's senior assassin!"
This year, the 2019 seniors broke the record for senior assassin involvement with a solid 57 teams and 229 players. This is the first year that senior assassin has group teams of three to five players instead of solo teams.
The participators pooled together a total of $1,145. Group winners will receive 50 percent off the pool, and the individual winner will receive 20 percent. The organizers of senior assassin, senior class president Matt White and senior class representative Andy Zhao, receive 30 percent of the pool for the huge task of keeping the weeks long game running smoothly.
Although it seems as if the whole senior grade is participating this year, there are a few seniors who value walking calmly into their house rather than self imposed stress.
"Looking at the way senior assassin is going, it looks like people are under a lot of stress," senior Brian Pemberton said. "I have my own business, school and work that I have to keep track off. I don't want someone on my back the whole time."
Whereas, the other half of the grade is craving this stress and may have been looking forward to it all year. Out of the 57 teams, team E$ and The Boys are currently (as of April 22) in the lead with a five kill streak.
E$ and The Boys team member Evan Scott feels proud yet worried about his team reigning over all the others.
"My teammates and I all have a large target on our backs," Scott said. "We always have to be on the watch."
Last year, I got an inside scoop of the works within the making of senior assassin. When I was a junior, one of my senior friends was running it alone. She felt overwhelmed and asked me to pretty much be an assistant to her. Although this year the rules are a bit different, my responsibility last year consisted of setting up targets for each player, checking Venmo for the really late deposits and most importantly making sure everyone has fun. Truthfully, the last part was the hardest to do.
Senior assassin should be insanely enjoyable for all and definitely something we seniors will remember for the rest of our lives. But there are a few people who take it way too seriously, to the point where it ruins the game for everyone.
Together organizers White and Zhao wrote out eight pages worth of rules covering every situation possible. Such as how to properly do drive-bys, what time you can and can't be on someone's property, and what areas around town are prohibited from any senior assassin activity. Simply it's eight pages worth of loopholes that could be avoided. They wanted to ensure that there would be no complications as seniors run around town with water guns.
"Going into it we remembered how many problems and conflicts there were last year, and both of us didn't want a repeat," Zhao said. "We spent hours planning for and discussing potential loopholes and special cases because we would rather overplan than be surprised by something."
Last year's senior assassin wasn't thought out to the extent of eight pages. White and Zhao are keeping tight security on their devices, scared that someone might gain access to their list of players and targets. They also heard about the tremendous amount of work it took last year to organize the whole game, so they both decided to co-organize it together.
Although White and Zhao have done everything in their power to avoid complications throughout the game, problems are still bound to happen. Groups will still squabble and tensions will still be high. This could be either good or bad, depending on how each group sees it.
"The more effort you put into it, the more fun it will be for everyone," White said. "It's not worth putting yourself or others into danger nor antagonizing anyone not involved in the game."
On Friday April 12, White and Zhao commenced The Purge: allowing all players to shoot whoever they wanted to and this included turning on their own team. One thing lead to another, and shortly students gathered at Chauncy Lake. The chaos created by the myriad of attendees attracted Westborough Police to the scene. Their presence halted all senior assassin movement for the night, as well as the rest of April break.
Senior assassin is meant to be fun. It's one of the last hoorahs seniors will have together.
"We hope that we can use this as an opportunity to give back to the grade that has given so much to us," Zhao said. "And as the year winds down wish the best of luck to everyone in their future endeavors."
Enjoy it, have fun and happy hunting Class of 2019.
About the Contributors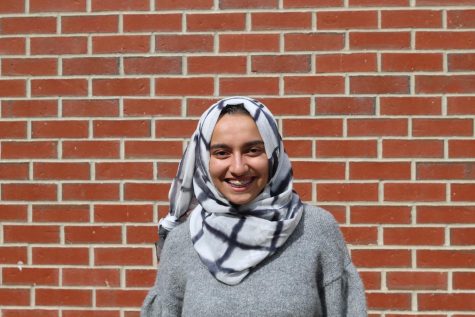 Mariam Ibrahimi, Assistant Online Editor
Mariam began writing for The Harbinger after taking journalism her freshman year. She became the Assistant Online Editor her junior year, and runs the...