Donahue debuts designs
Senior jumpstarts fashion career with T-shirts
Senior Max Donahue is designing, making, and selling artistic t-shirts that have touched on topics of vulgarity and expression while exploring his passion for fashion.
Donahue has a website where all of his shirts are for sale. Donahue has been creating his own fashion designs for years. In spring 2016, Donahue designed a prom dress for his date, alumni Isabella Roy, and later in the year, took a course in fashion design at Parsons Paris.
"I wanted to find a way to explore the business side of fashion because I've only worked in the more art-centered side, and fashion is equally business and art," Donahue said.
Donahue wanted to display his visual artwork to the public in a different manner.
"The goal of [the shirts] is that I wanted to find a way to put my artwork on something that people could wear," Donahue said.
"
I think primarily art should make people think, and that's what I aim to do with my artwork."
— Senior Max Donahue
Earlier this year, Donahue put up signs with his website on them around Algonquin, but because school policy does not allow students to advertise outside businesses inside the school, he was asked by school administrators to take them down.
In addition, administrators expressed concern about "Word Search," one of Donahue's shirts that has a profanity embedded in the design, and they have requested the shirt not be worn on school property.
Sales have increased since then, and the "Word Search" shirt is one of Donahue's most popular designs.
"The shirt itself isn't about the vulgarity in it," Donahue said. "It's about the expression of something obscene and how people react to it. The administration was very nice. They understood that it was just artistic expression. They wanted to enforce that not everyone will understand it that way."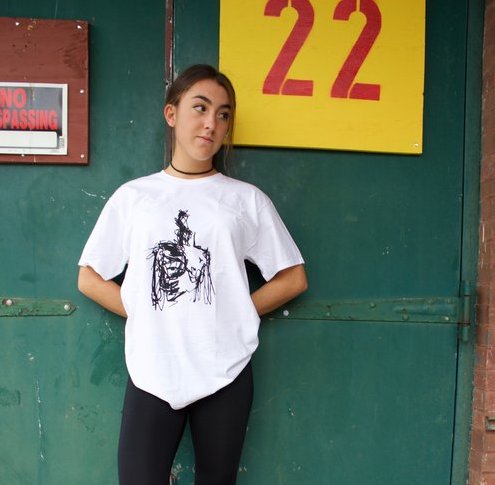 Senior Grace Antino said she was was honored to be one of the models on Donahue's website.
"I like that he's [making shirts] and I respect that he's trying to make a business out of something he loves at such a young age," Antino said.
Donahue silkscreens the shirts by exposing an image onto a screen and then leaving it under a light. As Donahue explained, the image is then pressed on the shirt, and ink is wiped back and forth, imprinting the image.
Art teacher and mentor George Hancin is very proud of how far Donahue has come with his dedication for fashion.
"Max is very self motivated," Hancin said. "He has a very mature outlook on art. I'm very proud of [him]. It's very rewarding to see."
Sophomore Nellie Zhang admires the shirts and how they showcase Donahue's style.
"I think the shirts are a really cool concept," Zhang said. "The design is so simplistic but each one means something and it shows its own meaning."
Donahue hopes that the shirts become more than something cool to wear.
"I think primarily art should make people think, and that's what I aim to do with my artwork," Donahue said. "I try to make people see things in a different way."