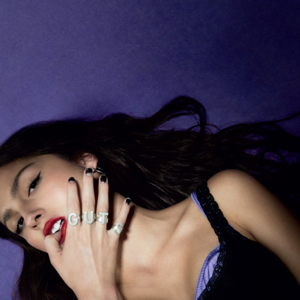 Olivia Rodrigo's riotous 12-song sophomore album "GUTS," released on Sept. 8, is a perfect reminder that growing up is chaotic – although Rodrigo may not have all the answers, she knows how to keep a pulse on the teenage consciousness and deliver exhilaratingly-memorable records.
Rodrigo's 2021 debut album "SOUR," was undoubtedly a cultural phenomenon, taking the world by storm and launching Rodrigo into an era of pop stardom that solidified her place in the music industry as a new ambitious, raw and introspective singer-songwriter that's here to stay. The announcement of her second record had many fans questioning what was next for the now 20-year-old singer who had managed to capture, produce, and bottle the vulnerable and messy aspects of teenagedom so perfectly. 
To fans' amusement, Rodrigo did not disappoint! Not only did she manage to embody those feelings for a second time, she went above and beyond in expertly blending sparkling girly pop anthems and gritty riot-chick ragers that explore themes such as teenage angst, anxiety and maturity that are intoxicatingly relatable and confessional. 
The Joan Didion-inspired opening track "all-american b*tch," is a gripping introduction to the album and was initially one of my favorites because of the poignant lyrics about the frustrations and impossible contradictions of womanhood in American society. "Forgive, and I forget / I know my age, and I act like it / Got what you can't resist /I'm a perfect all-American b*tch," Rodrigo shouts loudly over rough overdriven guitars, sarcastically adopting the embodiment of an idealized woman to emphasize its absurdity. 
Similarly, tracks such as "ballad of a homeschool girl," "get him back!" and "love is embarrassing," are  reminiscent of the flare and shine of "SOUR," featuring pop-punk elements and head-bobbing early 2000s rap-rock instrumentals all the while exploring new humorous, raw and unforgettably-messy lyrics. "Everything I do is tragic / Every guy I like is gay," and "I wanna meet his mom, and tell her her son sucks," had my friends and I giggling as we listened at 7:40 a.m. in the H200 parking lot before school. 
My favorite song on the album is easily "lacy," the quietly guitar plucked somber double-edged and green-eyed ballad that blurs the line between infatuation and love. The bitter and emotional lyrics, "I despise my jealous eyes and how hard they fell for you / I despise my rotten mind and how much it worships you," echo the envious sentiment of comparing yourself to other women to an almost unhealthy obsessive-extreme. 
In addition to "lacy," "GUTS" features its fair share of powerfully-emotional piano-centric ballads such as "teenage dream," "the grudge," and "making the bed," highlighting Rodrigo's range and conveying her lyrical maturity and vulnerability. Rodrigo begins "teenage dream," with the lyric "When am I gonna stop being wise beyond my years and just start being wise?" The track explores her struggles with navigating her ingenue, billowing in an orchestral crescendo in the end where she desperately asks, "When will it finally get better?"
"GUTS" unmistakingly combines all the aspects of what made "SOUR" so unforgettable. "GUTS" not only features exciting and insanely catchy singles such as "bad idea right?" and "vampire," but it's also a showcase of Rodrigo's lyrical growth as she tackles teenage recklessness, emotional insecurities and naivete. Rodrigo wants us all to know that even though spilling your guts is messy, wild and vulnerable, it's ultimately liberating.
What do you think about Olivia Rodrigo's new album?
Sorry, there was an error loading this poll.