REVIEW: Taylor Swift's third night at Gillette leaves fans 'Enchanted'
Concert tells tale of 17 years of musical reinvention and nostalgia
Nearly 70 thousand fans erupted in screams of elation last night for Taylor Swift's final performance of her three-day "Eras Tour" weekend at Gillette Stadium, a jam-packed venue she coyly nicknamed "Foxy Foxborough."
The Broadway-esque production of Swift's three and a half hour long set spanned 45 songs across 10 album-eras, inviting fans on a trip down memory lane as a tsunami of sweeping emotions followed each track, which she described as either intimately confessional or the result of her imaginative storylines. 
What makes the Swift experience truly revolutionary and unforgettable is the culmination of the thought and effort put into every intricate detail of the show. Swift and her team's dedication shines through the expertly crafted choreography of jaw-dropping dance moves on high rises and dives under the stage. Swift gracefully sashays down the catwalk with awe-inspiring set designs and serene forests while incorporating quick costume changes into ballgowns and dazzling sparkly leotards.  
Fans' wristbands around the stadium glowed different hues as Swift embarked on her eras journey, beginning with her rosy and sincere "Lover" followed by the nostalgic, golden "Fearless" as fans scream-sang along to popular tracks such as "Love Story" and "You Belong With Me." 
The striking contrast between the quiet forest ambiance of "evermore" to the loud, rebellious dark energy of "Reputation" had fans on the edge of their seats. The lighting and aura from my floor seat view, in combination with the captivating bridge of "Don't Blame Me," had everyone floored and exploding with excited screams.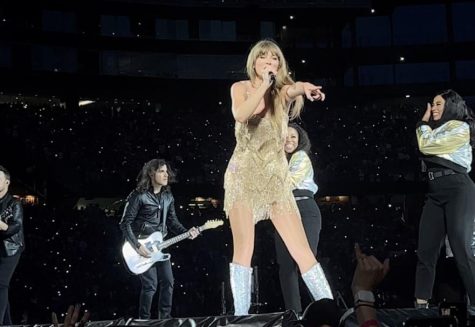 Swift donned iconic outfits from prior music videos during the insanely catchy throwbacks of "Red," and she further amazed fans as fire spewed from the stage, illuminating the stadium during "Bad Blood." Nevertheless, fans were eager to learn what the surprise songs of the night would be, an "Eras Tour" tradition where Swift surprises the audience with two songs of her choice outside of the setlist, one guitar song and one on the piano. My predictions were "Long Live" and "Getaway Car," but she surprised everyone when she played two on the guitar, as the rain from Saturday's show broke her piano.
Swift shocked fans with "I Think He Knows," a song from "Lover," and the titular track "Red," one of her more well-known songs. I was more than pleased with these songs as "I Think He Knows," is an underrated favorite of mine. 
Even more memorable was the special connection Swift fostered with the audience as she vulnerably shared aspects of her life through her heartfelt monologues between tracks or by singing revelatory lyrics describing different periods of her life. Thousands of fans swayed to the heartbreaking personal song about Swift's late grandmother entitled "Marjorie," using their phone flashlights to light up the stadium into a sea of glistening stars. The touching lyrics accompanied by her grandmother's voice in the stadium made for an eye-watering experience.  
The profound relationship between fans and Swift is not a one-way street. Not only did Swift receive an over three-minute emotional standing ovation, but during the performance of "Nothing New," a duet with opener Phoebe Bridgers about the delicate nature of remaining relevant, she and Bridgers commented about how the experience was just as world-bending for them.
"Every time we see each other after a show, we are like, 'Was that the craziest thing that's ever happened?'" Swift said during the concert. "Just being with you [the audience] and getting to sing together."
Throughout the show, Swift alluded to her experiences and vulnerabilities that were laid bare during the COVID-19 pandemic, bravely confessing how songwriting and recluding to her imagination had been a personal form of escapism to cope with not being able to tour or connect with fans for almost five years. 
"
Every time we see each other after a show, we are like, 'Was that the craziest thing that's ever happened?'
— Taylor Swift
"Some things are just too sad to think about," Swift said. "I wrote 'folklore' two days into the pandemic." 
Swift highlighted the four new studio albums that she had not been able to tour yet: "Lover," "folklore," "evermore" and "Midnights." The "folklore" performances encapsulated Swift's pandemic-stimulated creativity as she flowed elegantly around the ethereal and mossy "Folklore Cabin," a product of her own invention, while singing a trio of songs about a love triangle of characters she created. 
Taylor Swift continues to push the envelope of the music industry through her artistry and her drive; the "Eras Tour" exemplifies the dedication to her craft and her fans. Not only was the experience unforgettable, but it leaves us all wondering: what will be Swift's next era?