AWC to host Open Mic Night to fundraise with student performances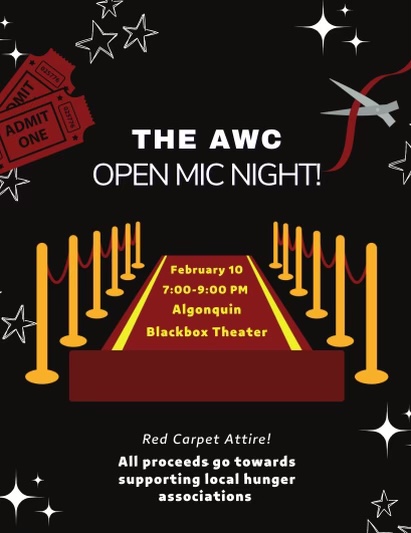 The Algonquin Writing Center (AWC) is hosting an open mic night filled with a variety of performances to support the Algonquin Writing Center and the Brown Bag Project on Feb. 10 in the Black Box.
The money is going to be supporting both the AWC and the Brown Bag project, a local hunger association that helps shelters in Worcester to fight against hunger. 
Junior Divya Sathya introduced open mic nights at the end of last year as an exciting fundraiser,  which led to her hosting another one this year. Sathya was inspired by a friend's school in a different town, which hosted open mic nights frequently, and decided to add the fundraising aspect to the show. 
"I didn't think an open mic should be dedicated just to music," Sathya said. 
Many people have signed up to perform at the open mic. The acts contain a variety of talents including music, poetry, skits and more, some of which have returned from the last open mic.  
"[Last time] was a really good experience," junior Adam Guggina said. "I thought the environment was really healthy and everyone was really kind and supportive." 
Tickets are currently being sold for five dollars at all three lunches Thursday, Feb. 9 and at the door Friday night.