Red Sox 2022 season preview: Boston looks to build on promising past season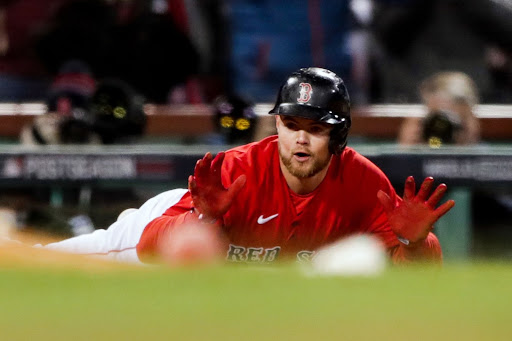 Coming off of a successful 92-win campaign that exceeded many people's expectations, the Boston Red Sox are looking to reach new heights this year. While some may be satisfied with the end result of Boston's 2021 season (losing the American League Championship Series in six games), I'd guarantee that each and every member of the Red Sox's organization is hungry for more. 
Last year, I, along with many others, would have been pleased with, say, an 85-win season and just missing the playoffs. However, considering the team's aforementioned success, it's only fair for expectations to increase significantly this year. Now, I believe anything short of the 92-win mark that the Red Sox reached last year, coupled with another deep playoff run, would constitute an underachieving 2022 season. 
One main reason why I anticipate another highly successful season from the Red Sox this year is due to the recent signing of 29-year-old star shortstop, but soon-to-be second baseman, Trevor Story. Story has been a great player since he entered the league in 2016 with the Colorado Rockies. He spent each of the first six years of his career playing in Colorado, but now, he gets to call Fenway Park his home after agreeing to a six-year $140-million-dollar contract with the Red Sox. 
As I alluded to above, Story will make a position change this year, switching to second base to accommodate Boston's incumbent star shortstop, Xander Bogaerts. Although Story hasn't played any position other than shortstop thus far in his career, something tells me the Red Sox wouldn't have made such a financial commitment to Story if they didn't think he could handle second base. 
Even if his defense slips upon the switch to second base, his potent bat will likely more than make up the difference. All in all, signing Story is by far the biggest and most expensive transaction the Red Sox have made under Chief Baseball Officer Chaim Bloom, and I fully expect Story to provide more than enough return on this hefty investment. 
Moving along, there are a few young players on Boston's roster with ample room to grow this season, and there are three in particular who I expect will make noticeable progress. Power-hitting first baseman Bobby Dalbec is coming off an up-and-down 2021 season, but with some added consistency at the plate, he can make a real difference for the Red Sox this year. 
Offensively, producing runs is the least of Dalbec's concerns, as he notched 25 home runs and 78 runs batted in last year; however, his batting average and on-base percentage could be improved, as he had less-than-ideal marks of .240 and .298 in those respective areas in 2021. If Dalbec can make leaps in those two statistical categories, then the Red Sox' lineup becomes all the more dangerous.  
With regard to pitchers, 25-year old righthanders Tanner Houck and Garrett Whitlock each offer an intriguing blend of promising results and future upside. While they both spent time pitching out of the bullpen last year, the expectation is that Houck will join the starting rotation this year, although it sounds like the Red Sox want to have Whitlock pitch in longer stints. Both of these young arms showed significant talent last year, and it would be a notable boost for Boston this year if they continue on their respective upward trajectories. 
Lastly, any discussion about the Red Sox that doesn't mention former player and current manager Alex Cora isn't telling the full story about the team. Cora is entering his second season in his second go-around as the manager of the Red Sox, upon returning to the dugout in 2021 after serving his much-discussed sign-stealing suspension. 
Cora seems to have made amends for his past mistakes, and his strong managerial work last year reaffirmed what we already know: he is one of the best managers in MLB, capable of connecting with and motivating players like few others can. He is a key reason for Boston's recent success and a significant part of why hopes are so high for this upcoming season. 
All things considered, this Red Sox season should be a fun one. They have an impactful new addition to their lineup, several young players with all the necessary potential to further ascend in their development, and a manager with a track record of being a galvanizing force for the team. Who knows how things will ultimately shake out, especially in a loaded AL East division. But, here's one thing I firmly believe to be true: the 2022 Boston Red Sox will be in it right until the very end.