Professional athletes use their power to influence fans' political opinions
With the 2020 presidential election right around the corner, several professional athletes such as former San Francisco 49ers quarterback Colin Kaepernick and National Women's Soccer League star Megan Rapinoe have made their political views public. They're using their fame and large online audience to amplify their messages, and many of their statements and actions affect the way their fans vote. Some sports fans believe athletes should "stay in their lane"; however, I believe professional athletes are smart in sharing their political opinions because of the large influence they have.
Professional athletes and celebrities in general are known to influence the way people do things. They are usually admired by their fans, so it is not a surprise that many people, especially younger fans, follow the way they think and the things they do.
Take Kaepernick for example. In 2016, he began kneeling for the national anthem before games to protest against social injustice and police brutality. His actions caused a lot of controversies, but they also got people talking about their views on racial issues, and many applauded and supported him. Soon after, many NFL players (and even high school and college athletes) began kneeling during the national anthem. In 2017, President Donald Trump called out the players in one of his rallies, saying, "Wouldn't you love to see one of these NFL owners, when somebody disrespects our flag, to say, 'Get that son of a b*tch off the field right now, out. He's fired.'" 
Many fans of Kaepernick and other NFL players who had been protesting against injustice did not support Trump after he negatively called them out in his rally. Personally, I believe it was right for Kaepernick to protest the way he did because it drew many people's attention to a topic they may not have considered, and Trump's reaction made me dislike him even more.
Rapinoe has also shared her opinion on political issues such as women's rights, racism and LGBTQ+ rights.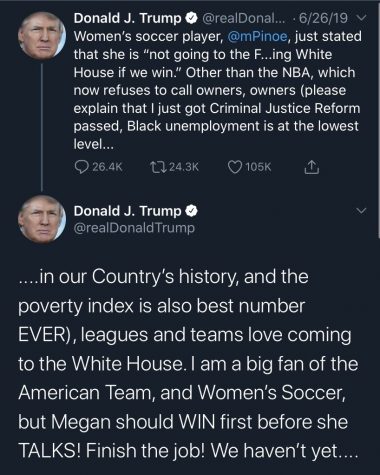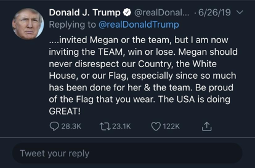 Last year, she made it clear she would not be going to the White House if the team won the World Cup. When asked if she was excited to go in an interview with "EightbyEight", she said "I'm not going to the f*cking White House." Soon after, Trump tweeted his response, "Megan should never disrespect our Country, the White House, or our Flag, especially since so much has been done for her & the team." 
As a result of Rapinoe's statements, many of her fans turned against or voiced their opinions against Trump, demonstrating how athletes' political stances can influence their fans' views. Rapinoe, like Kaepernick, faced plenty of backlash and was brave to speak out the way she did, and again, the way Trump responded did not make me want to support him at all.
In 2020, during the height of the Black Lives Matter movement, professional athletes from teams all around the country showed their political activism in games, on social media and in their everyday lives.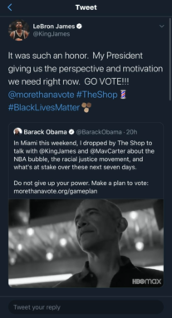 For example, several NBA teams such as the New Orleans Pelicans and the Los Angeles Lakers wore shirts with the words "Black Lives Matter" during practice and the national anthem. Some teams even painted those words on the courts at the NBA bubble. As the movement was already going viral on social media, NBA players' involvement caused it to reach an even wider audience.
Even on the conservative end, professional athletes voiced their opinions. For instance, former NFL player Herschel Walker recently endorsed Trump for reelection. He claimed that Trump is "not a racist." Fans of Walker often show support for Trump as well due to his large influence.
In addition, athletes from all over the sports world have used their power on social media to influence their fans to go out and vote. NBA player Lebron James and other black athletes even formed an organization called "More Than A Vote," which calls and provides resources for African Americans to cast their votes in the upcoming election.
According to a 2020 study at Wake Forest University, professional athletes are influential in politics "to a great extent."
"[Professional athletes] have the ability to influence people's views on issues regarding race such as immigration and criminal justice reform," study leader Betina Wilkinson said in an interview with Spectrum News.
No matter the sport they play, popularity status they have or opinions they speak about, professional athletes have a large platform. I believe it is important for them to use their platform for political influence as many already have. It is up to fans if they want to listen, but I believe athletes absolutely can be activists.