Softball looks to bright future from young players
With a fairly young team, girls' softball plans to stay strong for the rest of the season and sees growth in its future.
The team has posted a 4-14 record and currently holds fifth place in the Midland Wachusett A division.  Players and coaches, including coach Kristen Morcone, are very optimistic about the future. Of the 19 players who made the team this year, nine are freshmen.
"I was very excited when I saw that number of freshmen try out, and I've known them for a while," Morcone said.  "When I took over as varsity coach they were in middle school, and I've run a couple clinics, so I've gotten to know them and see them play over the years. I'm happy they all stayed with it."
Many of the freshmen on the team have played together leading up to high school, but playing on the Algonquin team has brought them closer together.
"It's great to have friends on the team that I know and have been playing softball with for many years," freshman Megan Tucker said.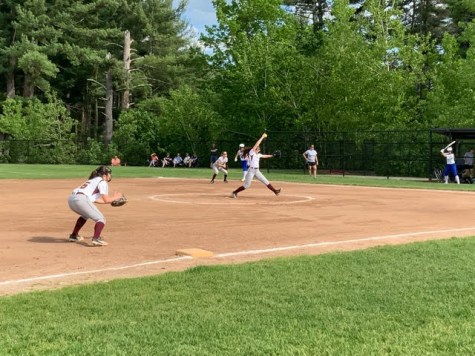 Tucker has started all of Algonquin's games during her first year with the team. Though the team has not won many games this season, Tucker believes they have improved  after each game.
Whatever her role is in the coming years, freshman Taylor Hodge is willing to contribute in whatever ways are necessary, and she has confidence about the future of the team.
"I think that this team will undoubtedly thrive in the future," Hodge said.  "When comparing our season to last year's, the coaches and players have definitely seen an improvement. Especially with lots of freshmen on this team, we can only get better on the field as well as closer as friends off the field throughout the next few years on the team."
Freshman Christina Kennedy has played second base for majority of the season.  She has also made appearances as a relief pitcher, coming in to pitch after Tucker is done for the day.
"[Playing with other freshmen], you have people to relate to," Kennedy said.  "I'm excited about all of us playing together."
More recently, freshman Angela Ke has begun playing regularly in left field after proving herself as a strong defensive player.
"I usually play left field but sometimes I'll be put in other positions that I'll gladly try out," Ke said.  "Playing softball with other freshmen is a great experience because I've been playing with the same group of people for so long and it's fun to see how far we've come as well as how much we've improved."
Though the other five freshmen have not played regularly during varsity games, they are key to the future of this team.  
"We were lucky enough to have a handful of JV games played so it was great that they got a chance to play compared to the current seniors who as freshmen barely touched the field so they definitely have a leg up there getting some experience," Morcone said. "[They've] gotten a lot of exposure to the way varsity softball has played…so I can't wait to see what they bring to the table next year."
With four freshmen already playing in everyday roles and many more ready to contribute in the coming years,  softball fans have plenty to be optimistic about. Despite their record this season, the softball team has a bright future ahead.