Running for a cause: Mulcahy trains for Boston Marathon, raising money for cancer research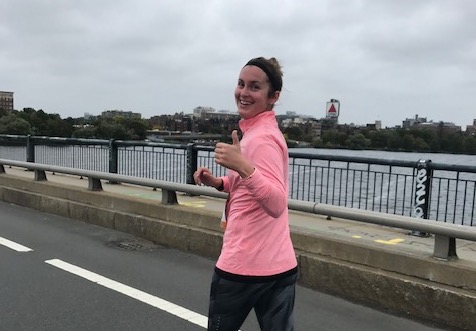 Hang on for a minute...we're trying to find some more stories you might like.
Running had always been a way for guidance counselor Kate Mulcahy to keep in shape, but now she runs with a new purpose. Mulcahy is training to run in the Boston Marathon to raise money for cancer research.
Mulcahy is passionate about the cause she's running for because cancer has affected her and her loved ones.
"Several years ago my mom was diagnosed with lung cancer despite having never smoked before," Mulcahy said. "She had to go through surgery, chemo and radiation. They had to remove part of her lung as part of the surgery."
Mulcahy says running the Boston Marathon has always been on her bucket list. Since her mother is unable to run a marathon, Mulcahy has taken it into her hands to run on behalf of her mother.
She runs with the Mass General Hospital team. One hundred percent of the money they raise goes towards research and activities for children in the Hematology and Oncology clinic. Her goal is to raise $10,000, as of March 5, she has raised $7,314.
"Fundraising is very difficult and it's hard to ask people for money, but people have been beyond generous and it's extremely heart warming just to see how generous people are," Mulcahy said.
"I'm paired up with a patient too," Mulcahy said. "It's really cool to see how the money is raised and where it goes to and you know that you're making a difference."
The team runs together every Saturday and have slowly been increasing their mileage as the marathon nears.
"It's a great achievement, it takes a lot of self discipline and I commend her for doing what she's doing," guidance counselor Deborah Guterman, who often runs with Mulcahy after school, said. "It's all for such a good cause. We are really proud of her."
Mulcahy looks forward to running the famous marathon while supporting a great cause.
"I'm most excited to cross the Boston Marathon off my bucket list, seeing our MGH patients & their families at mile 20, and seeing my friends and family at the finish line," Mulcahy said, "I'm nervous about getting through the Newton hills but I've been training on them all winter."
Click here to donate to Mulcahy or to the MGH team.