'Proof' cast wins ensemble award, tackles real-world issues through play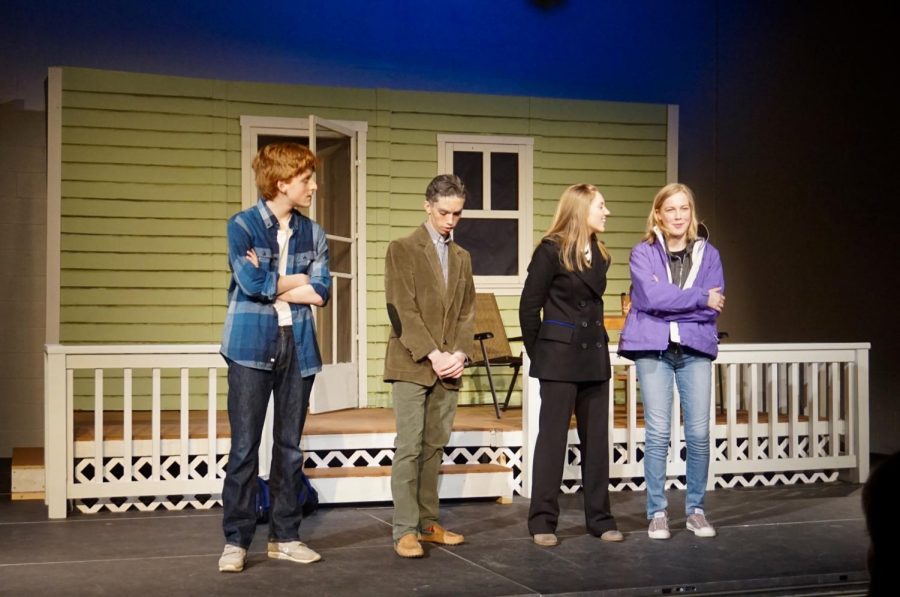 The cast of the winter play "Proof" won an ensemble award at drama festival The Massachusetts Educational Theatre Guild on Friday, March 1 after debuting the production in the Black Box on Thursday, Feb. 28.
"Proof" takes place in Chicago in the year 2000 and follows the daughter of a recently deceased renowned mathematician, Catherine (senior Katherine Moffa), and explores her relationship with her father, Robert (senior Nick Hatton), who developed severe schizophrenia in his mid-20s.
"My favorite part [of the play] is the maturity of the whole thing," Hatton said. "It was definitely a challenge playing someone that is in their sixties and was a genius and was schizophrenic."
Catherine copes with her father's death while attempting to avoid following his path too closely, as she worries that she too may be developing mental illnesses.
"Mental illness is a really serious thing to talk about, especially when it's going on in your family and it's someone you care about and you want to help them, but you can't always," Moffa said. "It's really hard to think that there are people actually going through that."
While Catherine is struggling with her grief, she sparks a romantic relationship with one of her father's former students, Hal (senior Joe Gordon), and also has to deal with her big-city sister, Claire (senior Annalise Loizeaux). She shows them an innovative mathematical proof she developed, but they both initially thought that Catherine was lying and Robert wrote the proof.
"There's only one scene where my character finally believes she can do the work," Gordon said. "[Catherine's] able to show that women are as capable, or more capable, as men to do [STEM] work."
"Proof" was written by David Auburn in 2001 and won both a Pulitzer Prize and a Tony Award for Best Play that year. Co-director and fine and performing arts teacher Maura Morrison originally directed the play at Algonquin in 2007; co-director and science teacher Brian Kelly and she decided to bring the play back because of the compelling, mature script.
"It gave student actors an opportunity to do something that they don't sometimes get, and that is deal with a really challenging piece, a really mature piece, and get the experience of finding characters that are dealing with real-life problems," Kelly said. "But also [the play shows] that real life has its serious moments and its funny moments and its tender moments. Trying to act that when you're 10 years younger than any of the characters in the play is a big challenge."
The cast performed act one of the two act play at The Massachusetts Educational Theatre Guild, a drama festival where student actors can get feedback on their performances from students from other schools and professional judges.
While most awards given at the festival recognized one or two members of a cast, the ensemble award that the cast won recognized all of the cast members for their outstanding performances and the way they worked together.
"What [the judges'] comments were for this show was that the actors worked so well together that they couldn't pick one or two actors for the show," Kelly said. "They wanted to recognize everybody in the show because they were such a cohesive unit, and that it flowed so well together and they played off each other so well…which is probably one of the highest honors a group of actors can get."
The award was "very special" for the people who worked on the play, according to Morrison.
"They got feedback from two strangers who are theatre nerds; it's different from hearing it from peers, or teachers or people that know them," Morrison said.
The ensemble award was especially meaningful to the cast because it was something they all earned together.
"We were all just so proud of each other and it made us grow closer together," Loizeaux said.
The cast's final performance of the show was in the Black Box on Saturday, March 2.
"They definitely were owning the moment more [on Saturday]," Morrison said. "And it was great to watch them do that because I think is shows that they really were invested right until the end."
About the Contributor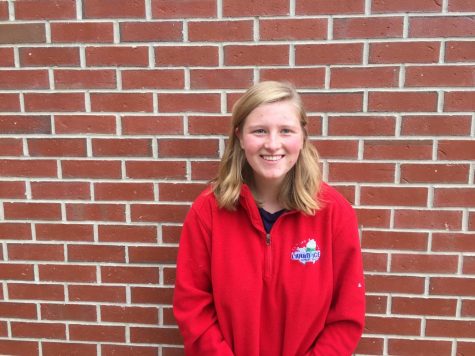 Maggie Del Re, Editor-in-Chief
Maggie was unwillingly thrusted into journalism class freshman year due to a scheduling snafu. Already a passionate writer, she quickly fell in love with...