REVIEW: Hot Table Panini serves delicious meals in a trendy atmosphere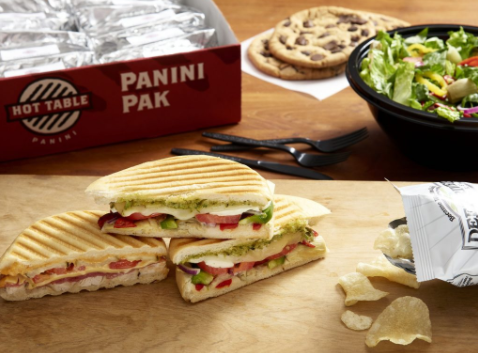 Hang on for a minute...we're trying to find some more stories you might like.
Time to put Hot Table Panini in the hot seat. Located in the brand-new Apex Entertainment Center in Marlborough, Hot Table Panini creates the ultimate panini while exhibiting excellent service and a great overall customer experience.
Hot Table creates a completely customizable panini sandwich; you can add anything and everything to it.
You can pick and choose from a multitude of options such as meats, veggies and cheeses to include in your panini, and your food is prepared right front of you by a friendly and welcoming staff member. Whether you decide to make your own unique sandwich or choose from the standard menu with offerings such as the buffalo chicken and the caprese paninis, Hot Table won't disappoint.
In addition to paninis, Hot Table also serves soups, salads and desserts. Some customer favorites include the southwest and antipasto salads, as well as the cheddar broccoli and veggie chili soup. There are vegan and gluten-free options, catering to any type of diet.
I ordered the turkey club panini, consisting of shaved turkey, crumbled bacon, American cheese, savory red onions, fresh tomatoes and crisp lettuce. The bread was painted with butter and grilled on a panini press. The cheese was perfectly melted on top of the other ingredients and enhanced the overall taste of the sandwich. No ingredient overpowered the other, creating a satisfying balance.
The casual restaurant is embellished with welcoming decor and a red color scheme. Inside, up-beat music plays to create a fun atmosphere. There are several tables within the spacious restaurant, allowing for many people to sit down and dine at once and not feel crowded. Additionally, the food is prepared quickly, enabling customers to enter and receive their meal fast.
The only negative to Hot Table is the cost. It is slightly expensive, with a small panini starting at $6.99, a medium at  $8.59 and a large at $10.59. Although these prices may seem costly, when the panini is assembled with all of the fresh, high quality vegetables, meats and other options, it's worth every cent.
Hot Table is a trendy place to dine. Whether you are going for a sit down meal or ordering online for a to-go order, Hot Table will satisfy your lunch or dinner cravings. Hot Table is definitely the next new hot spot and I cannot wait to go back.