Boys' lacrosse gains momentum after victory against Westborough
Hang on for a minute...we're trying to find some more stories you might like.
Boys' lacrosse shocked many as their season started out rougher than they had anticipated. Starting the season with a 4-7 record, the boys put themselves in a tough position. Fortunately, the tides may be changing since their victory against Westborough on April 29.  
Thus far, the team has suffered some frustrating losses to a multitude of teams, opening their season with a heart-breaking 8-9 loss to Wachusett. Since then, the team's only win has been against Nashoba, until their victory over Westborough.
"Losing the first couple games brings a lot of doubt and frustration, especially when we feel like we could've played better," senior captain Chris Skinner said.
However, the team still has a chance to qualify for playoffs, and many players are feeling optimistic about the games to come.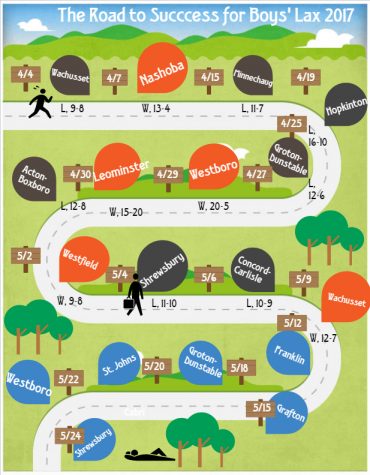 Infographic Kate Hostage
"This isn't the end," senior Andres Axline said. "We had a slow start, but we have 13 games left. We have to win eight of them [to qualify for playoffs]. That's tough, but our team has the ability to do it."
This year's team is filled with seniors, compared to teams in the past. With 18 seniors and only eight younger players, the team is full of veterans.
"It shows we have a lot of experience," Axline said. "We have a deep bench, so we have talent and depth to substitute in. We don't rely on our seniors; we also have talented younger players."
After coming through with a huge 20-5 victory over Westborough, the team hopes to gain some momentum for their upcoming games.
"Moving forward [the win against Westborough] was a high confidence booster because we have a tough schedule coming up, but there's no better way to go into it with a 20 to 5 win where we all played as a team," senior captain Kevin Hatton said.