Local historical house teardown shows need for preservation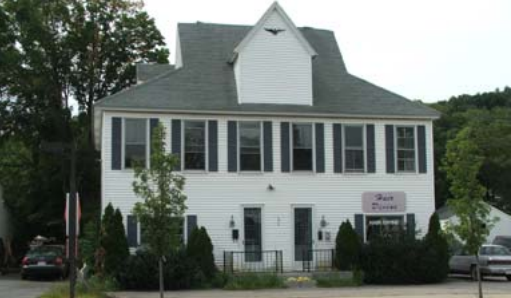 Recent local victories in the preservation of historic homes give hope to those who support the cause. However, the fight isn't over, especially for churches and smaller old buildings that bring our towns their character.
One such building, the Dr. Ira C. Guptil House in downtown Northborough, was demolished on February 23. The town voted for its demolition during town meeting as part of Article 40, which supported the creation of a new Northborough Town Common.
According to the Northborough Historical Commission's Historic Asset Inventory, the house was built around 1898. The building was recently occupied by a hair salon, but has been empty and owned by the town for quite a few years.
The demolition of this historic house is not an isolated incident. Recently, many historic buildings in central Mass have been demolished, and many more demolitions are likely to occur in the future. An exhibition hall in Sturbridge, Paris Cinema in Worcester, an old Fitchburg fire station, and many others have been demolished in the past year. Two old Catholic churches in Worcester, Notre Dame des Canadiens and Our Lady of Mount Carmel, are also slated to be demolished in coming months.
The demolition of these churches would be a tragedy. Not only are they old buildings that should be kept just because they show what the city used to look like, but they are beautiful and important. These churches have artistic architecture that make them treasured landmarks to the city. Notre Dame was and Mount Carmel still is a community centre for Worcester's French-Canadian and Italian Catholics respectively. These churches must be saved to protect the heritage and culture of all of Worcester.
While all of this bad news comes from Worcester, Northborough and Southborough have had some historical preservation victories. Southborough's Town Meeting voted to preserve the Burnett House last year. At the same meeting Northborough condemned Dr. Guptil's old house, the town voted to purchase and preserve the White Cliffs, another 19th century mansion.
While the importance of saving some of the big historic landmarks can be easy to understand, people often forget the subtle importance of protecting the smaller and sometimes unnoticed buildings, like the one demolished on February 23. These buildings have nothing particularly different about them. They are old; however the architecture of these buildings, while not individually important, gives a town its feel.
It is no secret that downtown Northborough is in need of improvements. A large factor to this is that so many of the 19th century houses that once lined West Main Street are gone. They were all demolished to build banks, gas stations and plazas, all in the distinctive style of the suburbs: far from the streets so that they are more accessible to parking lots.
The parts of Northborough that still feel like a town are the sections that still have the old houses. The downtown residences on Main Street, historic buildings on Blake, South, School, Pierce, and Hudson Streets, and the preserved Meetinghouse Historic District keep the feel of a New England town alive. The town should create more historic districts to protect these buildings and prevent the eastern part of downtown from looking like the industrial park of the western downtown.
While old buildings must be preserved, architects should design more buildings that enhance or preserve the character of the town. Shops should be oriented toward the street, benefiting pedestrians instead of parking lots. Churches should look and feel like those of the past instead of concrete auditoriums with crosses, and houses should be unique and welcoming homes, instead of identical "little boxes made out of ticky-tacky."
Because our modern buildings are not constructed like pieces of art anymore, we need to save the buildings from the times when people built things right.