Mead leaves big shoes to fill after retirement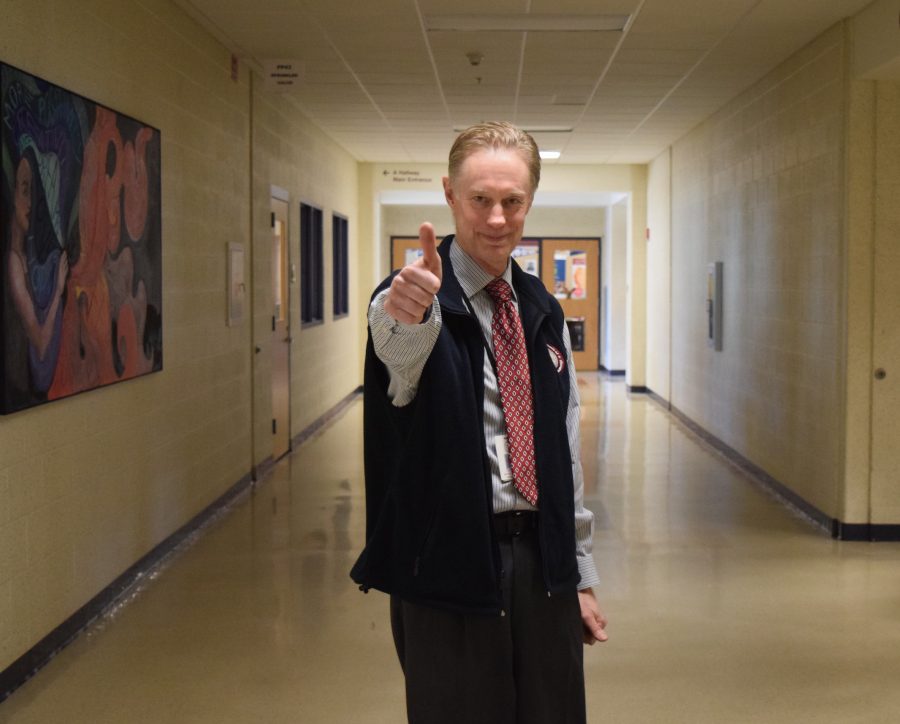 Jen Fox, Co-Editor-in-Chief
February 15, 2017
Following Principal Tom Mead's announcement of his retirement at the conclusion of the academic year, Superintendent Christine Johnson is forming a hiring committee and involving student representatives in the process.
Mead revealed that this would be the last of his eight years serving as principal of Algonquin at a faculty meeting on January 18.
"I announced [my retirement] because June 30 is a long ways off," Mead said. "It gives the staff, the teachers, everybody ample time to participate [in the hiring process]- and that's what I encourage them to do, participate. Have a voice in this thing, pick somebody who's going to take you where you need to go as a school."
Following a procedure similar to that for the hiring process of Mead, Superintendent Christine Johnson plans to put together a Search Committee of fourteen community members to participate directly in the hiring process. Johnson attended a January 30 faculty meeting to lay out the plans for the selection of a new principal to faculty and administration, emphasizing that representatives from every facet of the community, including the student body, would be included in the process.
"I'm requesting two students from the Class of 2017 [to join the Search Committee]," Johnson said. "They know Mr. Mead, they won't be here next year, so it's not putting any student in a particularly compromising situation, because they'll be off someplace else. They have also been here for four years, and they have tremendous perspective and experience."
"
We are seeking the most highly qualified [person] to be the next educational leader and heartbeat of Algonquin, and everyone is invited to apply."
— Superintendent Christine Johnson
Student Council adviser John Barry decided to help facilitate discussion between the school and the Class of 2017 representatives by hosting two open forums for students to share their opinions.
Barry sees the inclusion of students in the hiring process as an excellent opportunity for more members of the community to get involved with the appointment of the new principal.
"My advice to any senior who wants to be on this committee is you have to understand that you're not doing this for your own edification, you're doing it to advance the future of this institution," Barry said. "I want open-minded kids who don't have a preconceived notion of who they want the next principal to embody. I want a senior who can come into this room, go to one of those open meetings, and listen to a very thoughtful freshman… and take in what they're saying."
The two Class of 2017 students that are selected have the responsibilities of participating in Barry's open student forums, accurately representing the views of the student body, and attending numerous meetings of the Search Committee to plan, discuss, and interview potential candidates.
"We are going to be meeting three times before the actual interviews will take place, and our goal is to start interviewing on March 6 and March 8," Johnson said. "We also recognize that seeking the best candidate might take more than one search, and so we've timed our search process such that if we do not find a candidate the first time through, we have enough time until the end of the year."
Johnson did not specify whether internal or external candidates might be favored by the Search Committee or by her, but expressed confidence in the abilities of the students, teachers, parents, and other community members involved in the search process.
"We are seeking the most highly qualified [person] to be the next educational leader and heartbeat of Algonquin, and everyone is invited to apply," Johnson said.
While Johnson anticipates finding a promising candidate, she acknowledges that Mead will leave big shoes to fill.
"It has been an honor to have Mr. Mead here for eight years as principal," Johnson said. "He is an advocate for all children, and he believes that every student's potential is without limits. I think that truly has been an energizing and vibrant philosophy for Algonquin Regional High School."
In the meantime, Mead emphasizes focusing on the present and enjoying the remainder of the academic year.
"My gentle reminder is that we have six months left of school," Mead said with a smile. "You've got six months left of me, so think about that, because I'm focused on that. I'm not mapping out my next adventures. I'll wait until July 1 to do that."
About the Writer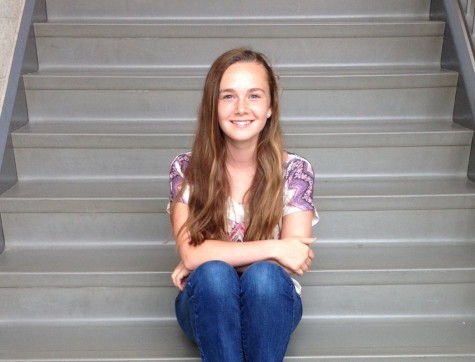 Jen Fox, Co-Editor-in-Chief
My name is Jen Fox, and I'm currently a senior and Co-Editor-in-Chief with one of my best buddies, Riya Pujari. When I'm not in the Publications room,...