Permatteo skates across the world
Most people just see circles painted onto the smooth gym floor. Sophomore Gabbie Permatteo sees a challenge, an opportunity, to show the world what she can do on roller skates.
Permatteo is one of the best roller skaters in the nation, and has competed on the national and world stage numerous times.
Last month, Permatteo placed sixth in the Junior World Championships in Novara, Italy. Previously, she won national titles in 2011, 2012, 2014, 2015 and 2016 and competed at the world championships in 2015.
Permatteo is a compulsory skater, which means she carefully follows drawn figures on the floor. She was ecstatic about her result.
"There's circles painted on the floor, and they're really big, and you have to keep the circle between your wheels," Permatteo said. "You skate forwards, backwards and there's turns and stuff. It's super duper boring to watch, but it's really difficult to do. It's like the base of all of skating."
"It feels awesome, honestly, like last year I ended up in 11th, so I jumped a lot, I would say," Permatteo said.
Permatteo discovered her passion at a young age, continuing the family tradition of roller skating.
"I've been skating since I was four, but my grandmother skated, and then my mom skated," Permatteo said. "It's like a family thing. [My mom] brought me to the rink one day and [I] put skates on, and I don't know, I just never stopped."
Throughout the years, Permatteo has also gained important life skills.
"[Roller skating has] definitely helped my focus, for sure," Permatteo said. "And when you do it for four to five hours after school every day, it definitely makes you learn time management and organization."
Although she has learned many skills, some are still challenging for her.
"Mentally, it's so hard to concentrate on one thing when you're doing it," Permatteo said. "If I catch my mind drifting, it's difficult to bring it back."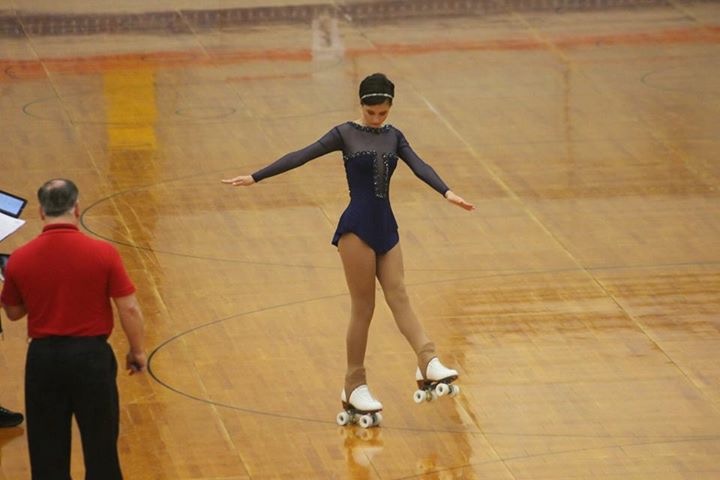 Permatteo skates at the Roller Kingdom Skating Club in Hudson up to 25 hours a week. Along with the physical exercise, Permatteo finds roller skating calming.
"It's super relaxing, like after school when I get to go to skating, I love it, because I don't have to think about school for at least five hours," Permatteo said.
Permatteo's mother, Heidi Permatteo, is fond of teaching Gabbie and is proud of how focused she is on the sport.
"What I enjoy coaching about Gabbie is that she is an extremely intelligent skater who understands reasoning behind the techniques for the skills she is working on," Heidi Permatteo said.
As Permatteo keeps climbing up the ladder, some things have kept her in love with the sport.
"Skating is really good for me," Permatteo said." I've met so many awesome people from it and I've had so many great experiences. I wouldn't trade it for the world. I love it so much."
Contributing Writers Mia McAuliffe & Maggie Del Re