Beekeeping Club buzzes to spread knowledge, raise awareness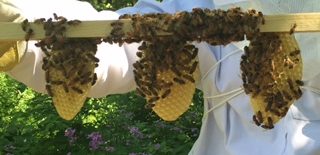 At the Club Extravaganza earlier this year, several clubs were showcased to students, but the Beekeeping Club run by sophomore Elsa Ray caught the eyes of many.
Serving as one of the newest clubs, many students and faculty were intrigued and wondered what this club entailed, as many have never heard of a Beekeeping Club.
"The purpose is to firstly educate people about bees, get them interested in actual beekeeping, and working with bees," Ray said. "We are trying to educate a larger community about bees and how important they are, in order to save them."
Ray first became interested in bees last May when she attended an eight-week course at the Worcester County Beekeeping Association, and hoped she could inspire others to do the same.
"It was the coolest thing ever because it was such a rewarding experience, and I couldn't help but think how cool this would be to have at school to get other students engaged with them [the bees] and even do some studies with them," Ray said.
Currently, the club has been applying to receive grants, such as the Quarter 9 grant from the Rotary Club to buy the equipment needed build a hive here at school.
"We are hoping to raise money to make the materials and to make a successful colony here at Algonquin by May," Ray said. "Hopefully after we procure the beehive, some of the AP Biology and AP Environmental classes will be working with the bees because some of their studies involve pollinators. We also might take part in some studies taking place across the state or even the country about beehives to try and educate people about bees."
"
We are trying to educate a larger community about bees and how important they are, in order to save them."
— Sophomore Elsa Ray
Science department head Lorraine Zanini advises the club and was excited to be a part of an educational and fun project.
"I thought [Ray] was doing a great thing in the sense that there's a lot of science behind it, and it can connect with a lot of our different curriculum within the science department," Zanini said. "But also, it is just so good for the environment, and when she came she had so much passion for it, that it was a no-brainer to advise the club."
Ray hopes that others will learn to love bees just as she does, so then they can continue and teach others.
"With bees you get honey, they are easy to take care of, and they have such a positive impact on the environment," Ray said "So why not get some bees, help the environment, and have fun?"