Best Buddies attends Leadership Conference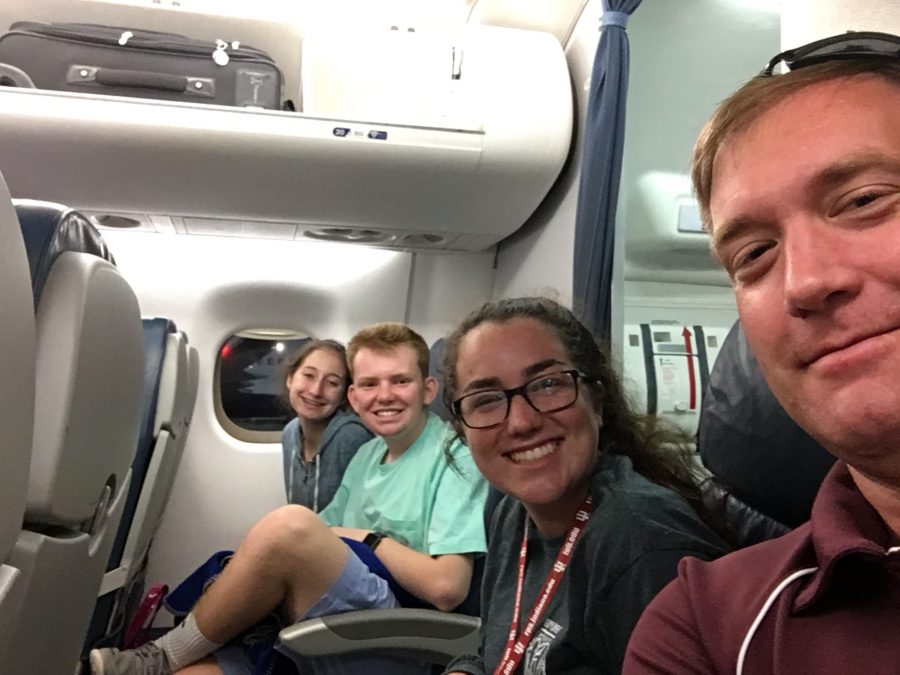 Best Buddies officers met with chapter leaders from around the world at the annual summer Leadership Conference to share and exchange ideas at Indiana University July 22-25.
At the conference, members attended workshops and seminars to discuss ways to improve fundraising and focus more on their buddies.
Best Buddies President senior Kate Crimmings was among those who represented the Algonquin chapter. One of her favorite aspects of the conference was meeting and getting to know members from other chapters.
"There were workshops and dances as well as interacting with other people from your state and country," Crimmings said. "You were able to have connections with them, but you did also get to meet people from different countries, which was so cool because you're pretty much all the same people; you have the same mindset, you live similar lives, and you like the same things, so you can literally go up to anyone and start a conversation and pretty much you get along with everyone."
As one of the leaders at the conference, Best Buddies adviser Kevin Hausmann developed important connections with other advisers throughout the country.
"I think what I gained most from the conference was that I built a much bigger network of advisors from Missouri, Texas, California… so now when I face a challenge with our chapter, I know ten or twenty people to go to who are experienced Best Buddies leaders," Hausmann said.
"Because Best Buddies is similar but different in every school, I found the value of networking with others is going to make our chapter better because we can borrow their ideas and find out what challenges they faced and how to fix [those problems]."
Crimmings' experience this year at the Leadership Conference was different from last year.
"Each year, the conference focuses on a different theme," Crimmings said. "This year's theme was 'All for;' for example, 'All for empowerment,' or 'All for inclusion.' Each of the workshops stemmed from that theme."
Business Development Officer junior Ryan Strobel also attended the conference, where he learned that Algonquin's Best Buddies community is only a small part of a much larger community.
"There was an event called the World Cafe, where we all sat in one large conference room with people from all around the country — everywhere from Nevada to Maryland to California — and there was a list of questions that we all discussed and we also talked about how to make our chapter better," Strobel said. "That was probably one of the coolest experiences: to realize that Best Buddies isn't just at our school, or even in Massachusetts."
Assistant Buddy Director junior Isabella Masciarelli also enjoyed the diverse group of people that were brought together at the Leadership Conference.
"The biggest thing for me was meeting new people and hearing about the abilities they have, and the positivity they find in their life," Masciarelli said.
Conference attendees heard ideas from other chapters that they plan to implement at Algonquin.
"Someone said how to keep associate members involved is having a pizza party, and we're actually trying to implement that if we can get permission from the cafeteria," Crimmings said.
Other ideas include focusing more on the buddies and allowing them to practice self-advocacy.
"In Long Island, they do a great job with advocacy work for their buddies," Hausmann said. "The buddies do more public speaking, they talk about why friendship and inclusion is important in their lives, and they also get to practice being self-advocates. That's something I want our student leaders to always think about."
Hausmann has attended the Leadership Conference five times, and will continue to go back because of the students' hard work and dedication inspires him.
"[The conference] renews my passion," Hausmann said. "It's such an inspiring thing to see these young students who care about inclusion, something that I have become very passionate about.
School, teaching, and being an adviser is tiring; just like anything else I need a vacation. But then this is my vacation.We come back with so many ideas and so much energy that it makes you want to make all the opportunities better for Best Buddies."