PROFILE: Senior ends varsity career with breaking a school record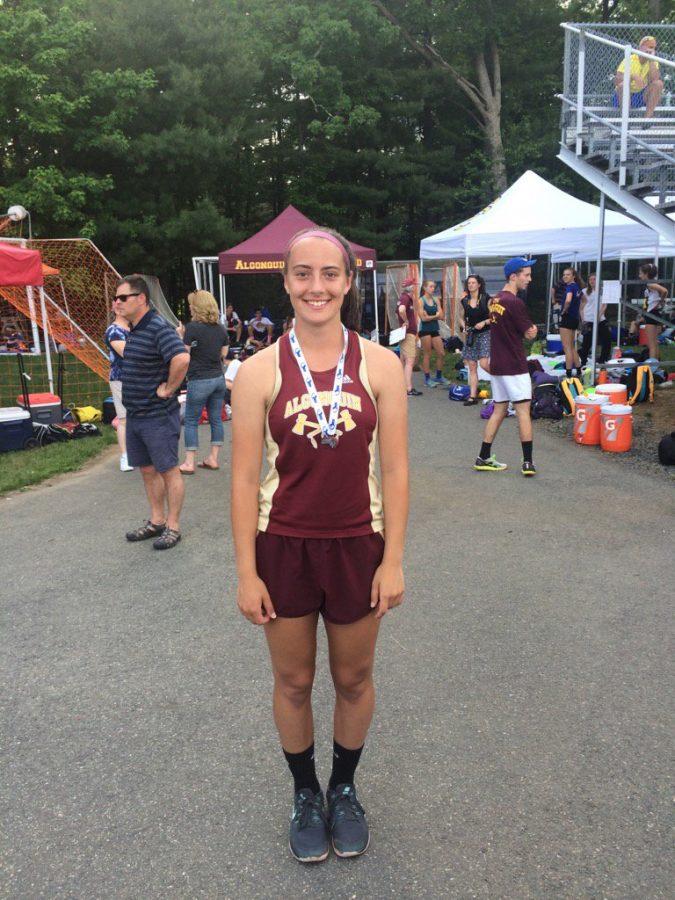 A competitor since kindergarten, three varsity sport athlete Caroline Leonard finished her senior year strong with a school-record breaking javelin throw, qualifying for the State meet for.
"It was at the District track meet. My farthest throw was 142 feet 3 inches. That was a meet record and my personal record for the year," Leonard said. "1976 was the last record."
At the Districts competition, Leonard got first place in javelin. She will be competing in States on June 4.
Leonard began playing sports at a young age and became competitive immediately.
"The first sport I played was soccer. I started that when I was in kindergarten," Leonard said. "I played it all the way through middle school and all the way through high school. I also started basketball when I was really young. I enjoyed that."
Basketball and soccer were Leonard's favorite pastime, but she dabbled in other sports as well.
"I played softball for a while, but when I got into high school I didn't want to play any more so I joined the track team. I ended up really loving that," Leonard said.
When Leonard began high school, her basketball, track, and soccer careers took off. With hard work she was able to help her teams become successful.
"For the soccer season we beat Wachusett in the Central Mass finals. That was awesome because they were our rival all year, and the past three years we haven't made it past that game. So to win that and to move on to the state tournament was awesome." Leonard said.
Leonard helped lead the soccer team to the State Finals where they lost a tough game against Needham.
Although Leonard has played with other club teams, she said that nothing compared to the chemistry she had with Algonquin athletics.
"I did club soccer and basketball for a few years but I didn't enjoy them as much as I did high school sports, Leonard said. "Algonquin athletics has allowed me to make so many great memories as well as friendships over the past four years. I like the people. I'm friends with a lot of them; it's like a family."
A busy schedule is a common side effect for most athletes. However, Leonard believes that sports can even help students become more productive.
"It [sports] really helped me with my time management because I knew I had a certain amount of time to do homework when I got home from practice and that really helped," Leonard said.
Throughout her hectic high school years, Leonard's family has been nothing but encouraging.
"They were always very helpful. Driving me to games, practices, and making dinner when I got home so I could do homework right after that, "Leonard said. "They have been so supportive and I can't thank them enough for what they have done for me."
Next year, Leonard will attend Assumption College and compete on their track and field team.
"I always enjoyed it [sports] so much I would never think of giving it up," Leonard said. "It's good to be competitive in a sport. I love winning and playing with my team so that's why I keep doing it."