Boys' volleyball setting up for success in playoffs
The boys' varsity volleyball team has been obliterating competition in the Mid-Wach  league, and has made it to playoffs through tons of hard work and dedication.
The team has a 14-4 record in division 1 Mid-Wach. They won almost all of their regular season games, with the exception of a few tough losses against Wachusett. However, in their first playoff game, the team defeated Wachusett 3-2 on May 25.
"It was the best game I've ever witnessed, no doubt," team captain and junior Dustin Hartnett said about the playoff game against Wachusett. "We had a huge crowd for the first time ever. That really helped us push through the entire two-plus hour game!"
Other than Wachusett, the team feels that Mid-Wach fails to provide teams that pose much of a challenge to them.
"For Mid-Wach, Wachusett is our biggest competition," Hartnett said. "But, other than Wachusett, most schools are just getting started up, while Algonquin has already been a team for a couple years. That gives us a pretty good advantage because we've had more experience playing together."
"We played Westfield Academy [a non-league team] the other day and it was a heck of  a game," Hartnett said. "We lost, but it was…very well-played for both sides."
Although Algonquin players have more experience than most of the other teams in their division, they have to learn to work around some disadvantages.
"We're relatively young. We only have five seniors out of 14 kids," captain and senior Mark Dyer said. "We've lost a lot of seniors last year, basically our whole starting lineup, so it's more of a rebuilding year…But this means that there's time for us to improve."
"Also, we're relatively short [in height] when compared to other teams," Dyer said. "But I have trust in people that when I set the ball, they will hit it. That's really important."
Despite some hardships, the team feels they are well-equipped to move up in the ranks and graduate from Mid-Wach to a more challenging league.
"We've been talking to coach to try to get us to a better division," Hartnett said. "We'll probably get whooped. That's the downside…But, we feel like, as a program, to move up in the ranks and keep challenging ourselves will make us a better and more well rounded team."
For now, the team is focusing on a strong post-season run. The sixth seeded T-Hawks play 14th seed Natick at home on May 31.
"This is my last year of playing Algonquin volleyball," Dyer said. "You always want to end off on a high note…Hopefully my last year ends with a championship."
Team members believe that having the support of T-Hawk fans will really help them pull out a win.
"More people should come to our games because they are really fun to watch!" captain and senior Mikie Upton said. "Volleyball's really fast paced. It's always moving. You're never standing around and waiting for anything."
Team shenanigans add even more excitement for spectators.
"Mikie Upton takes his shirt off at most away games," senior and first year player Jason Truax said. "He loves taking off his shirt."
About the Contributor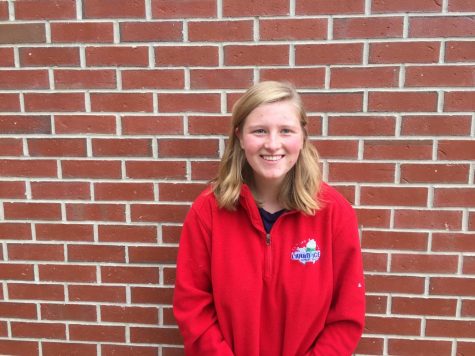 Maggie Del Re, Editor-in-Chief
Maggie was unwillingly thrusted into journalism class freshman year due to a scheduling snafu. Already a passionate writer, she quickly fell in love with...