REVIEW: Restaurant and bar for eccentric explorers and mad scientists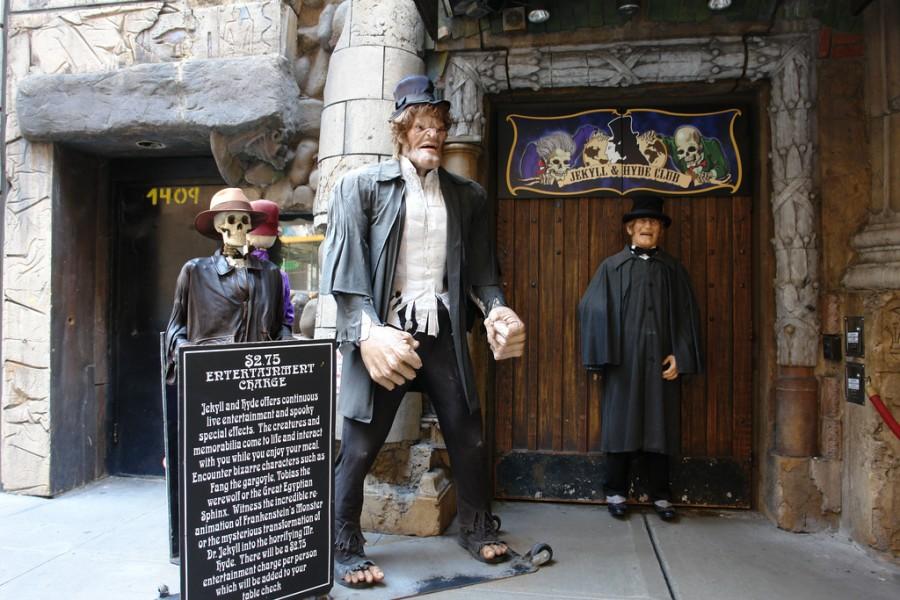 As my friends and I were strolling down the streets of New York on Saint Patrick's Day, we began to search for a restaurant that would satisfy our hunger and an intriguing NYC experience. The World Famous Dr. Jekyll and Hyde Club of New York City is a "haunted restaurant and bar for eccentric explorers and mad scientists where guests can eat among the unusual and the bizarre."
When I stepped into this restaurant, within a New York minute, I was swept away into what seemed like another dimension. The dimly lit, dungeon-esque bar left me dazed.
"What is this place?" seemed to echo in my mind as I gazed at the ceilings and walls of this tiny hidden mystery. A small bar stood to the left of the entrance, buzzing with a polite crowd of St. Patty's Day partygoers. A bartender and a waitress swished by dressed in tuxedos topped off with red bow ties and black top hats.
The walls were indistinguishable by the clustered, obscure objects unidentifiable unless stared at intensely. Ancient pharaohs with green glowing eyes, werewolves, skeletons of past Columbia University fraternity members. A rhinoceros, clocks, a Frankenstein that appeared out of nowhere from the ceiling and flashes of electricity enclosed in clear tubes. Perhaps the most peculiar part was the strange voices that frequently chimed in on our conversations. As we sat down and began talking, a werewolf would comment on our appearance and engage in witty banter, or a rhinoceros would persuade one of us for a kiss.
A man who appeared similar to a mad hatter approached us. He wore bug-eyed goggles and carried a hand on a stick. We assumed this man was part of the entertainment, and deemed it okay to converse with him. He claimed that the hand he carried was his brothers, and he told us he had been born three days ago although he struck me as a middle-aged man.
For our appetizers we requested crispy fried dill pickles and calamari. The pickles were tangy and crunchy and served with a peppery ranch sauce. They were tasty, but nothing out of the ordinary. I am not a fan of seafood, but my friends declared that the calamari was overcooked and rubbery. Although it wasn't cooked to perfection, the spicy sweet and sour sauce with roasted red peppers made up for it (this I can vouch for). For our entrees we split a margherita pizza topped with melty mozzarella and strong, deliciously scented leaves of basil. Once again, it was good, but nothing to rave about.
As we continued to talk to the strange man, we learned that the restaurant was based on the book and movie Dr. Jekyll and Mr. Hyde by Robert Louis Stevenson. Although none of us had read the book or seen the movie, a quick Google search explained the strange characters and objects in the restaurant.
If you are looking for a new, exciting, and scary experience, I would highly recommend this restaurant. Although if you want cheap eats this is not the place for you. What baffled us is the fact that we were charged twelve dollars just for "entertainment." Yes, it was entertaining to chat with a strange man with a severed hand on a stick, but I'm not quite sure it was worth $12.00 ($3 per person), especially for four students discovering New York City on a budget.