Students Skype in the classroom with author Victoria Scott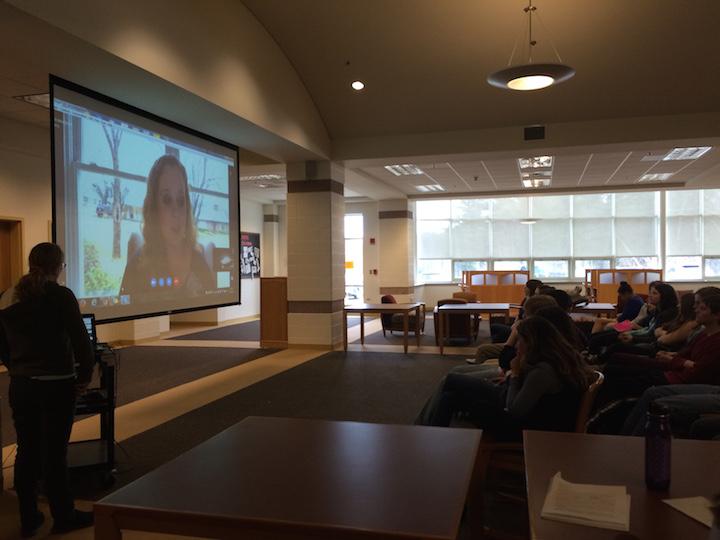 Young adult author Victoria Scott was interviewed by English and creative writing students through an organization called "Skype in the Classroom" on March 8.
The interview was planned last autumn when instructional technology teacher Julie Doyle found that Skype in the Classroom was reaching out to schools so students could talk to professionals.
"This organization called Skype in the Classroom brought as many people, experts, like Victoria Scott, to Skype with classes," Doyle said. "Some of the books she's written, we have them right here in the library."
Students lined up in front of the computer with questions. They asked Scott about her inspiration for writing, how to find editors and agents, and how to have confidence when one is discouraged.
Scott was questioned about how long it took her to write her first book. Although the book never got published, Scott still keeps it in remembrance of how far she has come.
"My very first book is called Vanity, which I never tried to publish," Scott said. "That one took me about a year to write, and then another four months to find an agent, and then another four months to find publishing people. The whole process took about two years. When I write a book I can finish it in about four or five months, and then it usually gets published one year later."
Students questioned Scott about the hardships of being an author and enduring criticism.
"It's [the hardest part of writing] is probably what I'm going through right now which is a process called revisions. It's after you write a manuscript and then your editor reads it and tells you all the things that are wrong with it and then you have to go back and try to fix all the problems," Scott said. "But your confidence is shaken because you think you've wrote this incredible, perfect book and then you have someone go through and take a red pen to every single part of it and they say 'Okay try again.' But it's really hard to do that when someone just told you all the things that need to change. It rattles you."
Scott gave a sneak peek of what is coming up next for her writing career.
"I'm writing two [books]; one comes out next year and it is called Violet Grenade. The other one is called Hear the Wolves," Scott said.
Librarian Michelle Rehill has read some of Scott's books, and praises Scott's ability to write books with such contrasting moods.
"I have read Collector and Fire and Flood; two very different books," Rehill said. "Collector was very funny and light, and Fire and Flood is very, very serious. Some of the books she's written, we have them right here in the library."
Sophomore Rosa Daiepour has never read a Victoria Scott book, but is still excited to have the opportunity to talk to her.
"I'm excited to get out of class, but it's also cool to talk to a writer," Daiepour said.