Split teams doesn't split swim support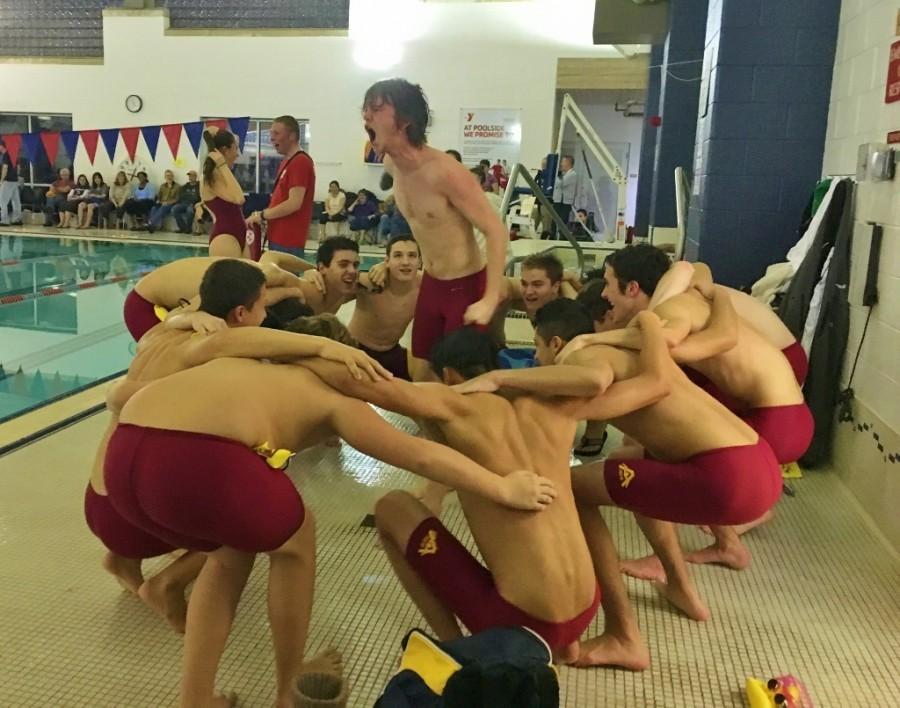 Girls' and boys' swimming adapted to their newly split team and succeeded at Division 1 States and Central-South Sectionals.
After finishing in the States competition in 18th place out of 49 for the girls, and 31st place out of 51 for the boys, head coach Jean Fedak is proud of the teams' commitment.
"Just like any other season or any other sport, the swim team had to shake off the rust and tackle the job of working to improve each day, each week, each meet," Fedak said. "When a team has that kind of systemic effort to commit to personal improvement, then the end result is team success."
Other recent achievements include placing 20th out of 53 for the girls, and 20th place out of 57 for the boys at Sectionals. The girls also placed second and the boys fourth at the Midland Wachusett League Meet.
Throughout the season, many swimmers significantly improved individual times including seniors Mackenzie Hostage and Ethan McRae, junior Julia Labich, and freshman Matt Beland.
Senior Kevin Shi felt good about the season although they have not kept up with the records of previous years.
"We certainly don't have the same depth that we've had in previous years but we step up and we still do our best," Shi said. "Placing has never been a big priority because we're too focused on times."
Shi is proud of his accomplishments and contributions this season.
"I felt really happy about sectionals when I finished third and eigth," Shi said. "States could have gone better because I didn't drop as much time as I wanted, but I figured out what I needed to work on and how I can improve from here on out."
Although both teams have thrived, they were unable to build on their combined 56-0 winning streak. The girls finished with a 10-1 record, and the boys were 8-3.
"They are extremely supportive of one another, win or lose," Fedak said. "They ride the bus together, attend all meets together, and now just happen to only swim the girls against other teams' girls and the boys against other teams' boys."
Shi says the split between teams did not affect team bonding, but it did affect performance in meets.
"It doesn't feel much different because we still practice together, have the same pasta parties, and the meets are basically the same," Shi said. "However it does affect the scoring. Splitting up has, at times, put us at a disadvantage."
Sophomore Rachael Shek, who helped break her team's record in the 200 Freestyle Relay, says that competition can be extremely motivational to swimmers.
"Teams that we had a potential of losing against help us bring it together and swim our best. We all had really good [event] times," Shek said.
Fedak agrees with this statement and likes to challenge her swimmers.
"Our team always gears up for the meet against Westborough and for the league meet. I think that is where we see our swimmers take off the most time and swim their fastest," Fedak said.
Sophomore Sofie Hopkins believes that mental positivity and confidence are also key to doing well in swimming.
"We have had a lot of best times this year, I think we have more team spirit too," Hopkins said. "All the practices and working on techniques help people get faster, and everybody got faster."
Fedak acknowledges that the hard work and efforts put in by senior captains Frances Palmer and McRae led to another wonderful season.