Needs Improvment needed no improvement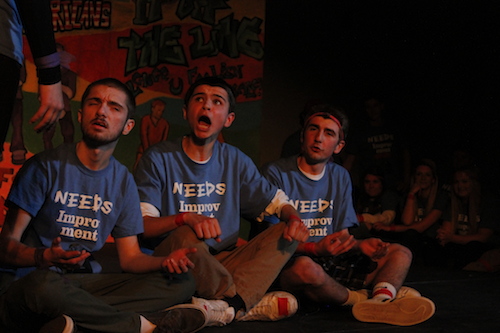 The cast of Needs Improvment took to the stage, performing two different shows composed of previously rehearsed scenes and completely improvised skits that made up March Sadness.
The show that was performed on March 3 and 4 differed from the show performed on March 5, but yielded the same positive approval of the audience, and was demonstrated by the constant laughter erupting from the crowd.
"The show Thursday and Friday was different from Saturday's show because we, the cast, knew what to expect," senior Jill Furlong said. "With sketch comedy, we were able to predict what the crowd would love. But with improv, which is what the majority of Saturday was, it's always a hit or miss."
The cast included members that had either auditioned or were chosen by drama teacher and director Maura Morrison.
"I approached [some of the cast members] and asked if they might be interested without putting any pressure on them," Morrison said. "I did that because there were a few I anticipated might not audition because I thought that they might not be aware of how talented they are, and then I held auditions for people that I didn't have as students. I wanted to make sure it was open to not just the students that I had in class."
With preparations for the shows beginning in late November, the cast's dedication to the show was not limited.
"The cast had an unbelievable amount of energy," Morrison said. "We would rehearse and I would beg to go home and they would stay. I would be kicking them out at night, especially the musicians."
The script of the rehearsed shows was composed of original ideas that were developed from previous improv scenes.
"All of the scripts came from improvs," Morrison said. "The group got together and we just did improv for weeks. There were some improvs that just quickly evolved or there were characters that we could play around with and explore."
According to senior Parker Lescalleet, the cast had to overcome the challenges of having a large number of outgoing, exuberant personalities in one room while rehearsing.
"I think that as a cast we didn't realize how serious we had to be during practice," Lescalleet said. "All of us, including me, just fooled around. It wasn't until a few weeks before the show that we took it seriously to learn our lines and get everything right."
The strong bonds between the members is what made the dynamic of the cast so charismatic.
"It helped how much we all got along too, I mean when comparing it to the beginning of the practices towards the end, the difference is crazy," senior Sam Kirk said. "We all got super close and we all really brought out the best in one another, resulting in us wanting to practice and prepare together."
According to junior Drew Despres, the cast's differences really are what made them work so well together.
"The cast had a great personality to it because it was a group of very different people who all shared the joy for making people laugh while on stage," Despres said.
With the cast members of this year's shows having made as many amazing memories as they did, there are high hopes for future improv shows.
"It was so much fun," Kirk said. "I literally would not trade the experience for anything and I only hope that in years to come the casts have as much fun as I did."
About the Contributor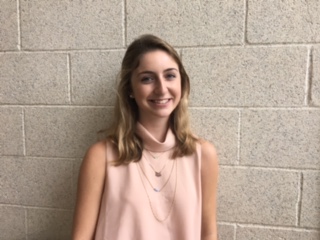 Shannon Youngberg, News Editor
Shannon joined the Harbinger during her Sophomore year in 2014 after taking a Journalism class and discovered that she had a knack for news writing. She...