Francalancia travels to Ecuador for volunteership
During this past holiday season, many students and families gave back to the community and helped those who are less fortunate by participating in clothing drives, volunteering at soup kitchens, and even raising money for a good cause with a bake sale. For senior Stephanie Francalancia, giving back meant traveling to Ecuador to not only help others, but to validate her dream of becoming a surgeon.
Francalancia traveled to Ecuador in January for ten days with a program called Hands Across the World to work in a local hospital and assist the doctors and nurses that had traveled with her. Trips such as this one allow students like Francalancia to give back to the community and experience a trip of a lifetime.
Francalancia was immediately interested in attending this trip when her mother received emails with information about it.
"I asked if I could somehow get involved, because I know I want to study [surgery] in college, and I thought that it would be a really fun experience," Francalancia said.
While on this trip, Francalancia got to see how hospitals work and help those who are less fortunate.
"It was an amazing experience," Francalancia said. "We got to help so many people down there who just don't have enough money for surgeries, or even enough money to even get health care."
Francalancia enjoyed her trip so much that she plans to attend another one this coming year.
"I already told them I would definitely go again next year while I'm in college," Francalancia said.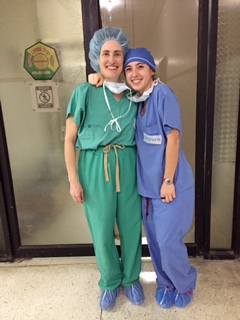 Tim Mayo, one of the trip organizers, strongly advocates for high school students to do what Francalancia did.
"I highly recommend students to work abroad if possible," Mayo said. "It helps to give perspective of our own lives and how we fit into the world."
But, Mayo says students don't have to travel the world to help the community because there are ways to give back everywhere.
"Students can help at home too," Mayo said. "Sad to say, there are orphanages, homeless shelters and clinics in our area. Children need assistance to have as normal a childhood as possible."
Relief work trips like the one Hands Across the World organizes, allow for students everywhere to help provide the less fortunate with a better future, and offer experience for a possible career.
"I would definitely suggest it; it was a great experience," Francalancia said. "It really reassured me that I want to become a surgeon one day."