The 'Tampaign' to collect tampons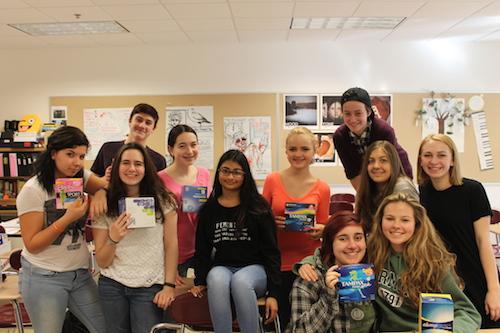 The She-Hawks club held a tampon drive to raise awareness for homeless women in need of feminine hygiene products, donating over 100 boxes to the Worcester YWCA with the support of English teachers Seth Czarnecki and John Frederick.
According to the organization's website, the YWCA of Central Massachusetts offers a wide range of programs and services that strengthen women and girls, helping them to realize their full potential.
The She-Hawks adviser, English teacher Monica Grehoski, said the entire push to collect money and supplies originated from senior Emma Cadman.
"I actually read an article that talked about how the number one thing homeless women need but don't receive in donations are tampons and pads," Cadman said. "That inspired the idea to do the drive."
"[This] hurts a woman's health a lot," senior Meredith Smith said. "We wanted to do something about that by raising money and tampons in order to help."
According to Smith, the main objectives of the campaign were to not only raise money and donate feminine hygiene supplies, but also to bring awareness to the absence of these supplies for homeless women.
According to Grehoski, the tampon drive consequently provided an opportunity for male teachers to talk about a taboo subject through discussing the stigma of periods.
"It's important just to have a dialogue about basic human functions," Grehoski said. "We can talk openly about a whole multitude of topics, and sexuality is so easy to talk about; part of sexuality and gender is noticing there are differences between male and female bodies. It's just not a big deal."
Graphic Cassidy Wang

To meet this goal and spark the campaign, Grehoski enlisted the help of Czarnecki and Frederick, who both consented enthusiastically.
"I only reached out to Mr. Czarnecki and Mr. Frederick because I think that students look at Mr. Czarnecki as young and cool, and Mr. Frederick is so successful in participation in food drives," Grehoski said. "I did not get any resistance from anybody."
"It doesn't make sense from me that a woman's period is stigmatized at all," Czarnecki said. "I think for women in particular, there's somehow shame associated with one's own body. And any way we can combat body shaming is a productive exercise."
Czarnecki believes the less people stigmatize others for who they are, the more inclusive they will be.
"And the more inclusive we are, the more cohesive of a community we'll have," Czarnecki said. "More people will feel comfortable being themselves and generally boost student and faculty happiness."
According to Czarnecki, when he first brought up the 'tampaign' to his class, there were faces that were surprised, appalled, or laughing uncomfortably.
"I think the fact that I brought it up to them every day as a natural part of the day, made a small step to destigmatizing it because it is a natural process that [every woman is a part of]," Czarnecki said. "Hopefully students notice that."
The fundraiser and its resulting discussion related to the overall mission of the She-Hawks.
"Our goal is to support women's issues and women's causes–and supporting homeless women who seem to be disempowered and disadvantaged seemed like a good start," Grehoski said.
"I know we did things in the past that sparked outrage in the school," Cadman said. "I wanted everyone at the school to hear about [the tampon drive] and participate in it. Our goal was to get everyone involved and make good in the world."
For Cadman, the best part of the fundraiser was the humbling experience of dropping off donations at YWCA and getting to see the employees there.
On February 19, the She-Hawks collected a box of donations from the classes of Grehoski, Frederick, and Czarnecki, and drove to the YWCA in Worcester to make their contribution. There, they were formally received by the shelter and the She-Hawks were given a tour and overview of their operations.
"We definitely did not expect to get as many boxes of tampons as we did," Smith said. "It was really cool to see all the teachers proposing that their students bring them in. Money-wise, we only had one bake sale but we raised almost $200, a lot for YWCA to receive for one point."
About the Contributor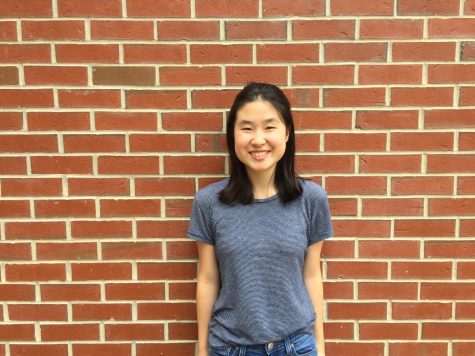 Cassidy Wang, Editor-in-Chief
Cassidy Wang has pursued journalism since her freshman year. As A&E editor her sophomore year, she reported on theatre productions. As news editor,...