VIDEO: Senior Hannah Moran wins Poetry Out Loud finals
Eight semi-finalists recited poetry in final round of Poetry Out Loud
Poetry Out Loud is a national poetry recitation competition with over 365,000 participants at the classroom level who move through levels culminating in a national champion who wins a $20,000 scholarship.
Reciters are scored in physical presence, voice and articulation, dramatic appropriateness, evidence of understanding, overall performance, and accuracy.
As the first year without a difficulty score, English teacher and Poetry Out Loud coordinator Seth Czarnecki believes performers recited certain poems not because they are the most complex but students thought they could render the poem the best.
"Because of that, I thought the nuance and subtlety was much more present than I had ever seen in previous years," Czarnecki said.
Senior Hannah Moran won the Poetry Out Loud finals and recited alongside eight semi-finalists on February 1 in the auditorium.
For Czarnecki, moments that stood out as the most significant and powerful included hand gestures and tone shifts in voice; he felt most impacted by Moran's reaction to winning, who performed a "A Boat Beneath a Sunny Sky" by Lewis Carroll and "Love Song" by Dorothy Parker.
"[Performing] was very nerve-racking; I could literally feel my knees shaking at one point," Moran said.
Moran thought that both of her poems had different meanings but similar undertones.
"What is on the surface can seem like a very innocent poem about love or a boat, but it can have a very deeper meaning," Moran said. "And I really wanted to bring that out."
After announcing seniors James Junker and Evangelos Baltas tied for second place, the crowd cheered vociferously when Moran was announced the champion.
"I thought the crowd's reaction when announcing Hannah as winner was indicative of the quality of her performance," Czarnecki said.
For Moran, the best part of Poetry Out Loud was being able to hear every other performer's recitation.
"I just remember watching everyone thinking, 'How many talented people are there in this school?'" Moran said.
In addition to Moran, Junker, and Baltas, semi-finalists included freshman Julia Guay, sophomores Taylor Murphy, Kara Hadden, and Anthony Francalancia, and senior Sarah Milnamow.
According to Czarnecki, judges split the performers' scores into elemental pieces and then rated the overall performance.
"[The judges] look for a variety of things," Czarnecki said. "So they're given the poems prior to the competition and they get to read them over and get a sense for what the poems are about. As they're observing the performers, they look at articulation, dramatic appropriateness, making sure the performance matches the poem, and physical presence."
Judges included assistant principal Paul DiDomenico, drama teacher Maura Morrison, public speaking teacher Katie Salt, Latin teacher Shawn Staines, and English teachers Jen Zuba and Emily Philbin.
Czarnecki believes the best recitations are not necessarily the most passionate but ones that hit the subtlety of each poem.
"I thought overwhelmingly the performers did that well- to get the little nuances of the language, tonal shifts," Czarnecki said.
Moran will move on to compete in the Massachusetts regional contest on March 5.
About the Writer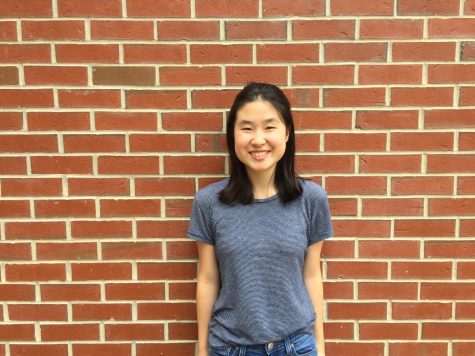 Cassidy Wang, Editor-in-Chief
Cassidy Wang has pursued journalism since her freshman year. As A&E editor her sophomore year, she reported on theatre productions. As news editor,...