Annelise and Kara's Fall Cuisine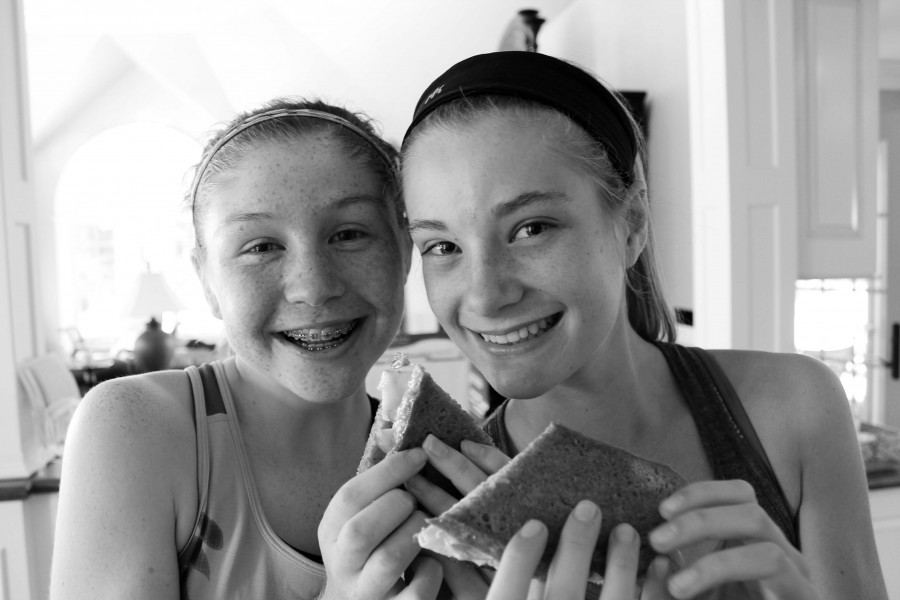 Inspired by everyone's favorite autumn flavors, we have created four recipes that any novice chef can put together. The following dishes showcase seasonal ingredients at their best, and we strongly suggest that you take some time out of your busy life to treat yourself. You know you deserve it.
Breakfast: Ooey-Gooey Caramel Apple Cinnamon Rolls
A breakfast that perfectly embodies a crisp morning spent in your pajamas, this recipe combines two of the world's finest culinary creations: the caramel apple and the cinnamon roll. If that isn't enough, they take no more than an hour to make (and under a minute to eat).
Makes: 6 rolls
Time: 1 hour
Ingredients:
Two packages crescent dough (8 oz each)

2 small (or 1 large) apples, finely chopped

1/3 cup butter, melted

1/2 cup unsweetened applesauce

1/2 cup brown sugar

1/4 cup confectioner's sugar

2 tablespoons cinnamon

¼ tablespoon nutmeg

Your favorite store-bought caramel sauce
Directions:
Preheat oven to 350 degrees and grease a medium glass or ceramic baking pan.

Prepare the filling by combining butter, brown sugar, confectioner's sugar, applesauce, cinnamon, and nutmeg in a small bowl. Stir until well combined.

Prepare dough by unrolling both cans of crescent dough into one large rectangle (about 13×7″).

Spread about half of the filling over the dough, then layer on the chopped apples. Pour on the rest of the filling.

Roll up the layered rectangle tightly to form a cylinder shape. Cut this cylinder into about six thick rolls using a sharp knife. It may get a bit messy, but do the best you can to keep the rolls together in a circular shape.

Place the rolls on your greased pan and bake for about 25 minutes, or until a light golden brown.  Remove from oven and allow to cool for about 10 minutes. Before serving, drizzle with melted caramel (very generously). Prepare to be amazed.
Lunch: Toasty Pear and Brie Panini
For lunch, why not shine a new light on the classic grilled cheese? This sandwich takes only minutes to prepare, and the result will make you feel like a gourmet chef.
Makes: 1 panini
Time: 15 minutes
Ingredients:
2 slices your favorite multigrain bread (preferably thick and crusty)

1/2 medium pear, thinly sliced

2 ounces (a generous hunk) Brie cheese

2 slices turkey or deli meat of your choice (optional)

1 tablespoon butter or margarine
Directions:
Heat up a large skillet or griddle on the stove to medium heat (about 350ºF).

Assemble the sandwich by spreading brie on one slice of bread, layering on the sliced pears, and folding slices of meat over it all. Top with the second slice of bread and cover with half of the butter or margarine.

Carefully place the sandwich, butter side down, on the stovetop and cook until golden brown on one side, pressing down with a spatula to flatten the panini. Butter the other side of the panini, flip it over, and cook until that side is golden and the cheese is melted (should take about 6 minutes total). Remove from heat, slice your panini in half, and enjoy the sweet cheesy goodness.
Cooking Tip: Put the panini on the pan with the cheese side closer to the bottom, so that when flipped over, the cheese will melt over the rest of the sandwich. You'll thank us later.
Dinner: Creamy Pumpkin Pasta with Fall Vegetables
Pumpkins are good for more than just pie, Jack-O-Lanterns, and throwing at your enemies. They also pull together this savory pasta dish that is surprisingly simple to create.
Makes: 6 servings
Time: 30 minutes
Ingredients:
3 cups your favorite pasta

1 cup heavy cream

½ cup pumpkin puree

⅓ cup parmesan cheese

½ teaspoon salt

½ teaspoon pepper

1 tablespoon unsalted butter

4 cups chopped fall vegetables- asparagus, red onion, butternut squash, carrots, and mushrooms (feel free to add others or make substitutions)

2 tablespoons olive oil

Grated parmesan cheese (for serving)
Directions:
Bring water to a boil in a large pot. Boil pasta until al dente, about 10 minutes. Strain water out of pasta and return to pot.

While pasta is boiling, start the pumpkin cream sauce. Combine heavy cream, pumpkin, parmesan, salt, and pepper in a small pot. Simmer the mixture on low heat on the stovetop, stirring occasionally, for about 10 minutes or until somewhat thickened. Remove from heat and stir in butter until fully melted and combined.

While the sauce mixture cooks, sautée the prepared vegetables by mixing them with olive oil in a medium-sized bowl, then heating them on skillet or griddle on medium heat, tossing frequently with a spatula. When onions are translucent, squash is soft, and all vegetables are lightly browned, remove from heat.
Add vegetables to the pasta and mix together. Pour cream sauce over it and combine thoroughly. Serve warm, preferably topped with grated parmesan, and contemplate signing up for Masterchef.  
Dessert: Halloween-Leftovers Blondie Bars
If you're anything like us, you eat any and all Halloween candy in sight before there is time to call it "leftover." But just in case you've had your fill of boring candy bars, these blondies are the solution. We used Reese's peanut butter cups, Snickers, and M&Ms, but add whichever Halloween candies your heart desires. The milky way's the limit!
Makes: about 16 bars
Time: 45 minutes
Ingredients:
1 cup all-purpose flour

½ teaspoon baking soda

¼ teaspoon salt

½ cup (one stick) unsalted butter, softened

1/2 cup packed brown sugar

1/3 cup granulated sugar

1 teaspoon vanilla extract

1 large egg

1 1/2 cups candy of choice, in bite-sized chunks (Snickers, Reese's, Milky Way, M&M's, Kit Kats, Twix, Butterfinger, etc.)
Directions:
Preheat oven to 350 degrees and grease an 8×8" or 9×9" glass baking pan.

Combine flour, baking soda, and salt in medium bowl.

Cream the butter and brown sugar with an electric mixer in a large bowl until fluffy. Add in egg and vanilla, mixing after each addition.

Gradually add flour mixture to butter mixture until completely incorporated. The dough should be very thick.

Gently fold in candy bar pieces with a rubber spatula. You have reached the biggest challenge: attempting not to eat half though dough before it makes it in the oven.

Transfer dough into greased baking pan, making sure it forms a level layer.

Bake for about 20 minutes or until lightly browned. Allow to cool for about 10 minutes before cutting into squares.
Baking tip: Line your pan with parchment paper so that you can easily remove and cut the bars.