Beyond the Art Room showcase honors work of two retired art teachers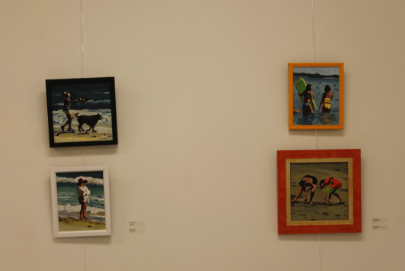 The recent debut of the Beyond the Art Room showcase in the C200 gallery attracted viewers desiring to view the accomplishments of former art teachers Marsha Gleason and Joyce Caras who retired into full-time artists.
"We're continuously trying to have shows in our art gallery," art teacher George Hancin said. "This seemed like an obvious idea because they retired and have done a lot of artwork since they retired, and we know a lot about both of them."
Gleason often did not have the chance to produce artwork as a teacher.
"When I was teaching, I was raising a family and I didn't do a lot of my own work until I retired two years ago," Gleason said.
Since she retired in 2013, Gleason has been taking art classes throughout the area. Her pieces in the gallery were inspired by the work produced in those courses.
"I'm taking a class now at Mass College of Art and Design in Boston," Gleason said. "I always wanted to go there, so now I'm getting to go back in the continuing education program."
Gleason intended for her artwork to be made up of deliberate brush strokes, or direct painting.
"When you put a brush stroke down, you're supposed to just let it remain and you leave it as part of the final statement; you don't do a lot of touching up and blending," Gleason said.
According to Gleason, this direct approach gives a more spontaneous look to the painting.
"It's a little reductive and simplified so that there's not as much details as other styles," Gleason said. "It's all about dark and light and shapes that you train your eye to see."
On the other hand, Caras loves detail and is inspired by nature seen in pathways and rocks.
Her pieces have been showcased at art associations in Cambridge, Concord, and Switzerland, but this is the first time she has had multiple up at the same time.
"When you really get looking at them together then you realize [what you're inspired by]," Caras said. "It's really important to show your work because you can't just do them and put them in portfolios."
Art teacher Danielle DiCiero had a large role in arranging the artwork in the gallery.
"We tailored how we hung it based on the two different artists and their styles and what looked good together," DeCiero said.
Hancin hopes to have at least three art shows in the gallery each year.
About the Contributor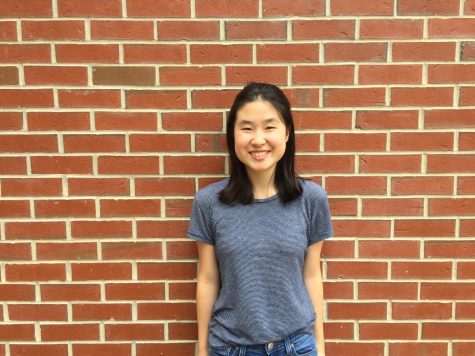 Cassidy Wang, Editor-in-Chief
Cassidy Wang has pursued journalism since her freshman year. As A&E editor her sophomore year, she reported on theatre productions. As news editor,...