"Journey to Absurdity' takes audience on thought-provoking ride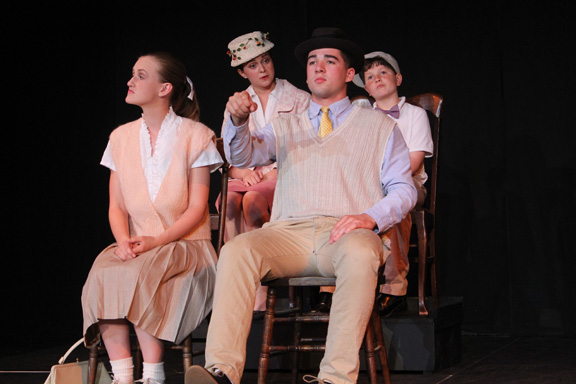 Hang on for a minute...we're trying to find some more stories you might like.
The "Journey to Absurdity" cast performed nine absurd one act plays, written by a variety of playwrights, in the Small Performance Theater on May 28-30. For director Tom Alera, the play went very well.
"I'm happy with it; people have been really happy with it and it just worked out the way I wanted it to work out," Alera said.
Nine scenes, ranging from an angry man determined to collect a widow's husband's debt to a seductive waitress in a tropical restaurant, entertained a vast audience.
"[The message was] just to think about our lives, think about the absurdity that we really live every day and don't realize it," Alera said.
Alera hoped the audience would pause and ponder what their reason for being on the earth is, how they are supposed to communicate with people, and what they should be doing while they are here.
In her performances, junior Sarah Milnamow (Ma Kirby, Popova, Susan, Mrs. Smith) communicated to others to not take language for granted.
"We just kind of throw things around and say things we don't really mean [for] communication in general; we become so vague and awkward as a society," Milnamow said.
Milnamow hopes the audience examines what happens when communication reaches an extreme.
Senior Jonny Manousaridis (Mr. O'Brien, Mr. Smith), through his roles, hoped the audience would expect the unexpected, which he believes surrounds every character in the play and theater of the absurd as a whole.
"Just let go of things sometimes, don't take everything so seriously because life is not always as serious as people think it
may be," freshman Christina DiMare (Kitty, Mrs. Martin) said.
For Milnamow, the most rewarding part about putting on productions is their power itself.
"Once you understand it and try to wrap your mind around [the absurdity], you realize the power of language and when all communication is lost, to have audiences come and say 'oh my god, that was incredible,'" Milnamow said. "[It's rewarding] for us to be able to successfully portray people like Beckett and Pinter; most high schools don't do that."
"It was absurd and hard to understand but really entertaining at the same time," freshman Somya Verma said.
Although sparking a positive reaction, "Journey to Absurdity" presented a number of challenges.
"I had to pick up [the role of] Mr. Smith about two weeks in, so I had to learn a significantly longer role in a short period of time," Manousaridis said.
According to Manousaridis, learning Mr. Smith's lines was difficult given the confusion of the play and its conversation does not flow naturally.
"Just the absurdity of the whole thing is unlike anything I've ever done before. So really trying to understand this new style was challenging but rewarding," DiMare said.
Milnamow was challenged by the difficulty in mentally switching between the different characters, as well as the denseness of the language and understanding her lines.
"If you don't understand it, try to make the audience understand it, try to make it interesting even if it's not," Milnamow said.
Play one, "The Happy Journey To Trenton and Camden," by Thornton Wilder featured the Kirby family during an extended car ride to Camden, where Ma and Caroline (freshman Bridget Brady) plan to visit their "married daughter" Beulah (freshman Sophia Kostiw). Pa Kirby (junior John Clark) and the young brother, Elmer Kirby (Jake Gibbons), are heading to the Y.
The night ended with "The Bald Soprano" by Eugene Ionesco, which was longer than the previous eight acts and encompassed a twisted conversation between Mr. and Mrs. Smith, who were later joined by Mr. and Mrs. Martin (senior Chris Lang), a maid (sophomore Michaela Garvey), and a fire chief (Clark). The conversation takes on a variety of tangential turns: Mr. and Mrs. Martin conclude that they're husband and wife (although the maid proves them wrong), Mr. Smith keeps urging Mrs. Smith to check the door, and a fire chief drops by to share strange stories.
In between, Alera incorporated shorter, more 'absurd' sketches such as "The Bear" by Anton Chekhov, "Come and Go" by Samuel Beckett, and "Kitty the Waitress" by Christopher Durang.
Senior performers had their final chance to showcase their theater talents in "Journey to Absurdity."
"The funniest part was I got to be a really sexual character in both [of my roles] and I had the same type of role in 'The Pajama Game', where I was a very sexual, woman-chasing character, so it blowed well for me and it was also really fun to encompass that role again," Manousaridis said, who played Prez in fall musical, "The Pajama Game."

About the Writer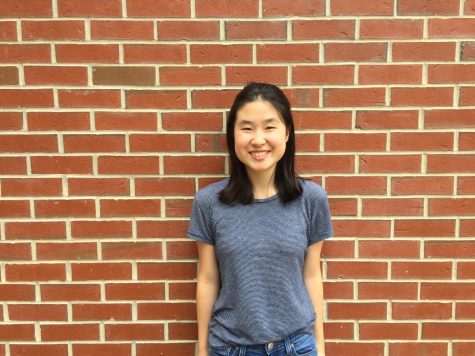 Cassidy Wang, Editor-in-Chief
Cassidy Wang has pursued journalism since her freshman year. As A&E editor her sophomore year, she reported on theatre productions. As news editor,...