The boys' cross country team won the Division 1C State Championship on Saturday, Nov. 11, with standout performances across the board.
The race was held at Gardner Golf Course, a notoriously challenging route, with the boys' cross country team winning with a final score of 40 points, over 50 points better than the second place team, Reading Memorial High School. Senior captain Stephen White earned second place overall with a time of 16 minutes and 13 seconds. Their victory qualified the team for the Division I All-States meet on Nov. 19, where all the A, B and C Division I teams will compete.
"I had high expectations going in," head coach Nathaniel Uttaro said. "These meets can be crazy because it's a one-shot deal, but they absolutely performed to the expectations that I had; they earned a dominant victory."
Senior captain Aiden Ruiz, who placed seventh overall, had similarly high expectations, feeling prepared as he had already run the Gardner course in the past.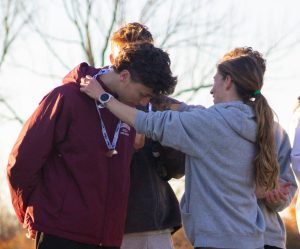 "We've ran the course before at districts in the previous years, so I kind of knew what to expect going in," Ruiz said. "I knew that the second mile was really hilly, so I knew if I [ran] out more moderately the first mile, that I could really push the second mile and just close hard the third mile."
White placed second overall in the race, just nine seconds behind the first-place winner. 
"[White] had an amazing race," Uttaro said. "He's had an amazing year, and he's only been with the team since last year, so he's really come a really long way in two short seasons of cross country. To finish second in a meet like that is phenomenal."
Other successful performances include senior captain Christopher Kardos placing fourth, senior captain Joe Lamburn at 11th and junior Jonah Gould at 16th. Senior captain Matthew Zhang and sophomore Trent Bedard, who raced as an alternate for senior captain Jonathan Meschisen, both placed in the top 20.
The team believes their victory reflects hard work put in throughout the season. Uttaro especially emphasizes the seniors' consistent dedication to the sport.
"These guys have fully committed throughout their four years and they've kept at it," Uttaro said. "They've chipped away a little bit each year; that's what's made them get to this point and have this opportunity that they have."
Now with less than a week to prepare for the All-States meet, the team is working harder than ever.
"We definitely want to try to win that," Ruiz said. "We're definitely in contention, and we know if we run the race the way we can, that we can definitely be one of the top teams. It's really anyone's race at this point."