A new policy designates individual parking spots for students and faculty, which, according to administrators, is primarily meant to create order and keep students safe, but has left students with mixed reactions.
The new policy was implemented at the start of the 2023-24 school year and requires students and staff to park in their designated, numbered parking spots every day starting Sept. 11. Students selected spots on a first-come, first-serve basis when purchasing their parking pass, starting at $175 for the full year, beginning Aug. 30. Faculty also chose on a first-come, first-serve basis starting on Aug. 28 and are allowed to park in the unnumbered rotunda and library lots, while students are not. Until this school year, students with parking passes were able to park wherever they chose on school property.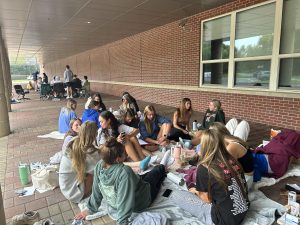 According to Principal Sean Bevan, the idea for assigned parking spots arose last year, when many students left the building without signing out.
"With four administrators, it's a literal impossibility to incentivize [students] to come back in, to be using our systems properly without having some other tools," Bevan said. "This is a tool we needed to employ. We're able to know who's purchased a parking pass; it'll also reduce how much students are able to slide out of the building without doing the regular process…[which is] a student safety issue."
Assistant Principal Andrew McGowan sees many benefits to the new system.
"It creates a little more order to where people go each day, which hopefully will help with morning and afternoon arrival and dismissal," McGowan said. "Most high schools have parking spots that are numbered both for students and staff. The reason behind the numbering is to make it a little easier for students to some extent. Once you purchase your spot, that's your spot."
Students were invited to come to school on Aug. 30 to purchase their passes, with senior sales from 9 a.m. to 11 a.m. and other drivers from 11:30 a.m. to 1:30 p.m. However, many students arrived early in order to secure the best parking spot, with some even camping out the night before.
"My friends and I got to Gonk at 11 p.m. the night before," senior Connor Locke said. "We wanted to be first in line, but when we got here we didn't want to sit in the line for the next 10 hours so we just slept in our cars. We had a canopy, brought a poker table and played some card games to kill the time."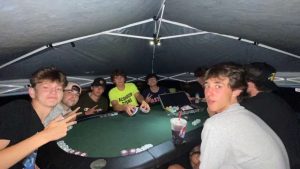 The first group of students to physically start waiting in line arrived around 5:45 a.m. on Aug. 30 in order to secure their desired spots.
"I got to school early because I wanted a spot with my friends, and we already picked out the spots we wanted before we got here," senior Kylie Tomasetti, one of the first students to choose a spot, said. "It's our senior year and I also want to be close to the door because I don't want to be late either."
The policy has sparked mixed reactions among the student body.
"I think parking should always be first-come first-serve," senior Shaila Sehgal, who has been driving to school since the middle of her sophomore year, said. "They [administration] are changing a school tradition; seniors always had whoever gets there first gets there first and now we are all stressed about parking in a parking spot. We have enough to worry about in our lives other than school parking."
Many students believe the new parking policy will be an inconvenience.
"I understand the attendance policy side of the policy and making sure you know who's parking where, but I think it's kind of unnecessary and a little bit of a hassle for people who might not actually have been trying to wrongly leave but are still getting affected by this policy," senior Cole Gowdy said.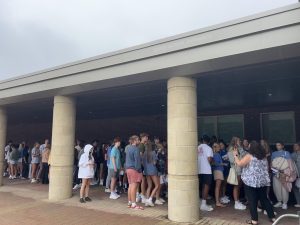 Senior Sylvia Gaskamp agrees, explaining that some days it makes more sense to park in one lot over another.
"I think the new parking policy is a little unreasonable because some days it's more convenient to park in H200 or the senior lot depending on your schedule or sport," Gaskamp said. "For example, if you are running late and your first period class is in H [hallway] one day, then you should be able to park in H200, or if you need to go to the locker room in the morning, you should be able to park in the senior lot."
Administration understands students' concerns, but believes that downsides to the change will be short term and will serve as benefits in the long run.
"There may be some growing pains with it because it is something new for the school, for students," McGowan said. "I think that as the year gets going though, our hope is that students recognize that it is nice to have your own spot. If there's a car in it, the school's going to back you up in the sense that that car shouldn't be there, whether it's another student's car or a visitor's car."
According to McGowan, if someone is in their parking spot, a student should get the license plate number, bring it to the office and park in a visitor spot for the day while administration addresses the problem.
Despite the fact that assigned parking is finalized, there may be some exceptions.
We identified a system that's pretty self-managed that student drivers would be able to have a spot that they can reliably know is going to be there for them every single time.
— Principal Sean Bevan
"Most students who grab their parking spot, that will be their spot for the year," McGowan said. "Under unique circumstances, if a student wants to switch parking spots, there may not be any spots left and they may want to just keep theirs, but we'd have those conversations on a one-to-one basis for those kids who really think it's in their best interest."
Bevan realizes this parking policy is a significant change, but is optimistic about its potential benefits in the near future.
"It'll be a period of adjustment and I recognize that not everybody's going to love it," Bevan said. "However, we identified a system that's pretty self-managed that student drivers would be able to have a spot that they can reliably know is going to be there for them every single time. They'll always know, 'If I leave my house at this time, I know where I can park because my parking spot is afforded to me.'"