REVIEW: 'That '90s Show' brings nostalgia, laughs to wide audience
Bell-bottom pants, a "smoky" basement and good friends is all you need in life according to the iconic sitcom "That '70s Show," a tradition that is now being continued by  "That '90s Show." With cameos from past characters and kids taking on the same aspects of life as their parents, you are sure to enjoy different aspects included in the show. 
"That '70s Show" was a staple sitcom running from 1998 to 2006 on the broadcasting network Fox. Recently, Netflix released a spin-off series, "That '90s Show," and many debate whether or not it lives up to the legacy that was laid down before it. The creators are able to portray many similar aspects from their own show, while also making the show their own. 
"That '70s Show," which is available for streaming on Amazon Prime and Peacock, follows Eric Forman (Topher Grace) and his tight group of friends during the struggles of high school as they navigate romantic relationships and friendships. The plot takes place in the small town of Point Place, Wisconsin during the 1970s, and many of the scenes are set in his family's basement. 
In "That '90s Show," we learn that Eric married Donna (Laura Prepon) and their now teen daughter Leia Forman (Callie Haverda) stays in Point Place for the summer with her grandparents as she too navigates the ups and downs during her teenage years. 
"That '90s Show" aims to be a source nostalgia for adults who watched "That '70s Show," as it has many '90s references (like Blind Melon's bumblebee girl and rave culture) and songs ("No Rain" by Blind Melon and "Cowboys from Hell" by Pantera), along with references from the original show. Many characters reprise their roles, and viewers learn what they have been up to since the end of the original program. Mila Kunis, Ashton Kutcher, Wilmer Valderrama and Tommy Chong all return to play the iconic friend group.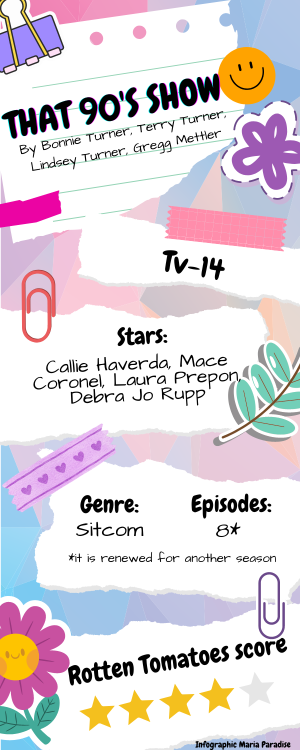 The new group of kids include Leia Forman, Jay Kelso, Gwen Runck, Nikki, Nate and Ozzie. There are similarities between the original characters as Gwen is similar to Hyde as respect to their rebellious side. In addition, Jay is similar to his father, Kelso, as they are both the "heart throbs" and the "dumb" friends. 
One disappointing factor from the series is that the character Hyde (Danny Masterson) was not mentioned at all. He was a crucial character in the series; Eric's parents even thought of him as their own and took him in when needed a place to stay. His absence from the show is justified due to 2017 allegations of sexual assault that have recently resulted in conviction on two out of three counts. However, oddly, the main characters seem to pretend that he never existed. The writers could have easily filled this large plot hole by saying that he was in jail or somewhere in another country, which would make sense for Hyde's character.
In addition to Hyde's absence, Eric's sister, Laurie Forman (Lisa Robin Kelley, later Christina Moore) was also not mentioned, which also stands out as irregular because neither her parents nor her brother mention her. 
There is a clear difference between the two shows, as "That '90s Show" seems to be a 'watered down' version of "That '70s Show," for obvious reasons: in the original there are jokes and comments that writers would not be able to show on TV today, as they would be considered offensive by today's standards. However, the writers in "That '90s Show" did a good job of making the show similar to the original show while making it more family friendly, as many parents may want to watch it with their children.
"That '70s Show" is rated TV-14 for the frequent innuendos, drug use and implied sexual activity. Similarly, "That '90s Show" is rated TV-14 for language and mature content. 
Despite the missing plotlines, characters and modifications made to the humor, the show was enjoyable to watch. By having many references from the original show and the 90's in addition to being able to see what the old gang is up to, "That '90s Show" ultimately does live up to the impressive legacy of the original sitcom.