REVIEW: Trombetta's Farm serves smiles and tasty treats
Who doesn't love a classic game of mini golf and a tasty treat? If you're looking for some of that fun, Trombetta's Farm (655 Farm Rd, Marlborough, MA) is the place to be! 
With homemade ice cream and indoor mini golf, you won't be bored. Trombetta's has been serving homemade ice cream since 1978. The ice cream is made fresh each week to guarantee deliciousness every time you go. The farm sells about 40 different flavors of ice cream, as well as frozen yogurt, slushies, sherbets and sorbets. To make sure everyone is satisfied, Trombetta's also offers sugar-free and vegan options.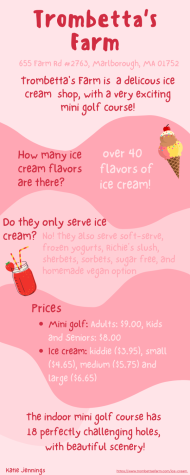 Trombetta's Farm customers have the option of both cups and cones. Their serving sizes include kiddie ($3.95), small ($4.65), medium ($5.75) and large ($6.65). Toppings like hot fudge and sprinkles can be added, and prices range anywhere from $0.35-$1.75. Bottled drinks, popsicles, frosties and a large variety of sundaes and extras are also available.
The sizing is pretty much a perfect match to its name, if not a little bigger than you'd expect. As for toppings, they don't cheap out! When eating the ice cream, which is creamy with depth of flavor, you can definitely tell it's homemade. 
Trombetta's even has their own ice cream truck that you can hire for any gathering or party, and the farm hosts events from private corporate events to birthday parties. The indoor and outdoor settings do not disappoint and could be perfect for any celebration. They have beautiful gardens and outdoor swing seating. If you choose to be indoors for an event, there are still elements of nature inside that create the same feeling of the outdoors. Plants and flowers, as well as unique statuary, are placed everywhere. Plants, statuary and garden supplies are also available for purchase. 
With open windows, plants and the sun shining over the mini golf course, Trombetta's Farm is especially refreshing on warm spring and summer days.  Don't worry about being cold in the winter, as the indoor area is heated. This makes it especially easy to visit any time of the year!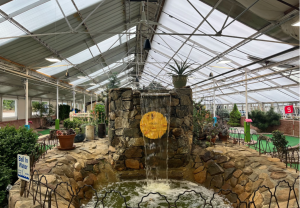 The mini golf course has 18 perfectly challenging holes. Admission for adults is $9.00, and it is $8.00 for children and seniors. You are welcome to go around the course as many times as you want as long as you pay the initial price. It has waterways, bridges and all kinds of unique decorations. The course is perfect for all ages, and won't disappoint. It doesn't get congested with people either, as there are usually only a few groups playing at a time. Everyone always assumes the first hole will be the easiest and the last will be the hardest, but Trombetta's Farm may surprise you.
After a good game of mini golf, the best thing to do is get some ice cream, which can be purchased indoors or outdoors; both areas offer comfortable seating. You can even purchase cartons of ice cream to bring home, which is never a bad idea. The kind workers don't keep you waiting long and are happy to serve you. 
If you're looking for some fun to kick off the summer you can visit the Trombetta's Farm website or stop by and see it for yourself at 655 Farm Rd in Marlborough. They are open from 10 a.m. to 9 p.m. Monday through Friday and 9 a.m. to 9 p.m. on Saturday and Sunday. Try Trombetta's; it won't disappoint.