REVIEW: Isabella Stewart Gardner Museum a beautiful, fascinating place to visit
It is a beautiful summer day, and you walk into a tranquil courtyard teeming with statues, flowers and greenery, which surround a mosaic floor that includes an image of Medusa. You are at the center of the "Palace," where Isabella Stewart Gardner's massive collection of art is displayed. You are at a hidden gem in the heart of Boston.
If you are looking for a fun place to visit in Boston, check out the Isabella Stewart Gardner Museum. Tickets are free for visitors under 18 and $20 for adults. Whether you are an art enthusiast eager to explore another museum, or simply looking for something to do, the Isabella Stewart Gardner Museum has something for everyone.
Gardner was an art patron who inherited $1.6 million after her father's death, and decided to spend it on art. According to the museum's website, the museum first opened on January 1, 1903, and was filled with Gardner's art collection that fit her vision perfectly.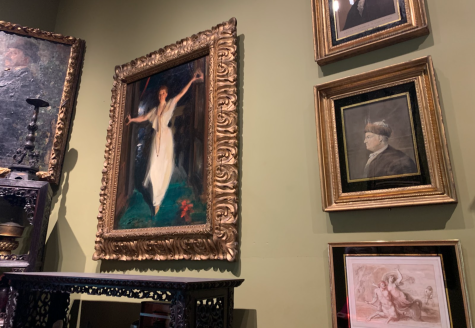 The museum is also known as the site of the largest property theft in the world, where 13 pieces were stolen in 1990. Empty frames can still be found throughout the museum where the pieces used to be, as a sign of hope for their return. 
The stunning enclosed courtyard, which can be seen from all three levels of "The Palace," immediately draws you in with its lush plants and the bright sunlight streaming through the glass ceiling. Various rooms filled with artwork and tapestries on the walls surround the courtyard, and each consists of its own theme or time period. For example, there is the "Dutch Room" and "Early Italian Room," as well as the "Blue Room," "Long Gallery," and many others. According to the audio guide for the "Little Salon" room, in creating these rooms Gardner emphasized that art is not only paintings hung on a wall, and this is clearly shown throughout the museum with art pieces featuring furniture and even cardboard cut-outs. The rooms showcase works such as "Pietà" by Michelangelo Buonarroti and "Incensing the Veil" by John Singer Sargent, as well as many others. 
The most recent special exhibition, Fellow Wanderer: Isabella's Travel Albums, ran from Feb. 16 to May 21, 2023, and was filled with Gardner's fascinating travel albums. The Presence of Plants in Contemporary Art exhibition will run from June 22 to Sept. 17, 2023, and Gardner's art collection is always available to view.
The museum is easy to navigate and a well put together place. The audio guides were convenient, and can be found by scanning the QR codes in each room. They are short and interesting, highlighting a few of the main pieces in each room, as well as glimpses into Gardner's thought process and vision for the museum.
Gardner's collection is very interesting, with various mediums such as paintings, sculptures, furniture and more. I particularly enjoyed the "Little Salon," which transports you back in time with artifacts from Gardner's travels in Venice, Italy. Most pieces throughout the museum lack labels, which helps you think about the pieces and interpret them in your own way.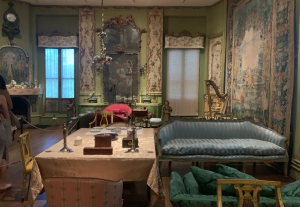 If you feel like grabbing a bite after wandering around the galleries, Cafe G, located in the museum, is a perfect place to go. I had a delicious quinoa bowl and a refreshing lemonade, which made for a great lunch. 
With Gardner's collection being kept in its original condition from when it first opened, the museum paints a snapshot back in time of Gardner's vision. It is an amazing experience, and the perfect place to go to explore art you may have never seen before. The Isabella Stewart Gardner Museum is located at 25 Evans Way, Boston, MA and is an 11 minute walk from the Ruggles T Station. It is open 11 a.m. to 5 p.m. most days, and it is closed on Tuesdays.