Algonquin's 'Inverse Polarity' team electrifies at Robotics World Championship
Algonquin's robotics team, Inverse Polarity, flew to Houston, Texas for the three-day Robotics World Championship on April 19, earning five wins and five losses while competing against 627 teams from around the globe. 
As a FIRST Robotics Competition (FRC) team, which is a team that builds full-size robots to complete tasks, Inverse Polarity qualified for the Robotics World Championship by ranking high in various regional competitions throughout the year, especially after placing 20th at the New England Championship. The 2023 Robotics World Championship challenge was to build a robot that could pick up cones and cubes, drop them to a new location and then move over to a platform. 
"[FIRST Robotics] releases a new game each year in January," senior co-captain Fred Probst said. "We get together, sometimes with other teams, to view the game release. Then after, we get together as a team and just start brainstorming and we just try to think strategy. There's a bunch of things that you can do on the field, so you try to figure out what is the best thing to focus on for your robot."
Robotics has had a place at Algonquin since 2003, when there were only 1,100 other schools competing in the FRC division. Today, over 9,000 schools compete in tournaments, amplifying the level of competition. 
"It's getting harder and harder [to qualify] because the [other] teams are getting better with competition," adviser and lead mentor Dan Strickland said. "The competition is more difficult each year."
Inverse Polarity had between six and eight weeks to prepare for the competition and build their final robot. They utilized the school's welding stations for certain parts, went to hardware stores and designed together. By working together, students contributed in different roles that suit them best.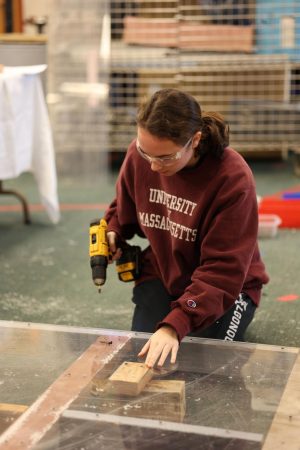 "We have a lot of different people all working together," junior Autumn Stewart said. "So while one team of people is working on building the base of the robot that drives, another team might be working on building, for this year, the arm of the robot."
Mentors are a major part of the robotics program, all of whom aided in the process. These mentors, including Strickland, typically work in STEM-related fields and come to Algonquin to guide students during robotics team meetings. With this collaboration, the team developed a robot, named Etienne, that won the 2023 Creativity Award in the Worcester Polytechnic Institute District Event.
"We went through a bunch of design iterations, trying to figure out what the best design would be during that [initial] planning meeting and a few weeks after," Probst said. "We settled on a two-jointed arm, technically three, because there's also a wrist at the end, and then it has an intake, rolls the wheels and then picks up the cones and cubes." 
Members of Inverse Polarity spent upwards of 13 hours each week in preparation for the World Competition. Despite the well-built design and coding, the team faced some challenges along the way.
"We did have a problem where the arm just suddenly started going, and we broke the chain and we bent the metal," Strickland said. "…We realized that, so we just had to reinforce [the metal]. We put a bigger chain on; we learned something from that mistake, which is what you want to do."
When the team arrived in Houston and attended the first day of competition on April 20, they were greeted by the spirited atmosphere at the Brown Convention Center. 
"It's basically a sports event, like a football or baseball game, but with robots on the field," Probst said. "It's the same energy. Everyone is shouting and screaming and cheering to bring their team off. I think a large difference is that we're also collaborating a lot with the other teams."
Another unique aspect of the competition is the structure. Teams are placed in random alliances and must work together to solve the task at hand, which FRC competitors refer to as "cooperatition" (a combination of "cooperation" and "competition"). 
"The way it works is that you're randomly picked to work with other teams," Strickland said. "You don't work alone, you work with an alliance of two other robots when you compete. So it's a little bit different…We were able to play with some of the best teams in the world in the same alliance."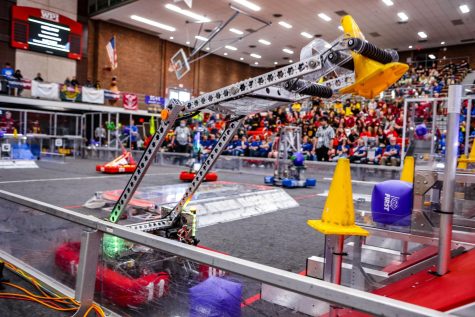 Throughout the rounds of competition, the team ended up winning half of their matches and losing the other half, a record that the team is proud of especially after competing against some of the best teams in the world. Strickland credits part of the success to the team's skill set and teamwork. 
"We have a very experienced driver and operator team, mainly," Strickland said. "It's a combination of things that you have to have: a robot that works, a robot that's reliable, along with a drive team that's capable and really good and then a support team around them, which make sure the robot works every time."
One highlight from the event was the playoff round, where Inverse Polarity was paired against one of the top alliances in the world.
"There's a single elimination tournament at the end where you get ranked; we were in the seventh-place alliance and we were playing the number two alliance," Strickland said. "We were the underdog, but [Inverse Polarity] did really well and actually beat the higher-ranked alliance…We did well in that tournament and then that's what got us higher ranks to be able to move on."
Inverse Polarity found major success on the world stage, placing 33 out of 75 competing teams in their division. Senior co-captain Cameron Jackson credits their victories to good teamwork.
"Some part of the success this year was the team dynamic," Jackson said. "We all work well together. The people who show up and do the most work have very good skills technically and collaboratively to make things succeed." 
The team formed a strong bond, as they worked together from roughly 8 a.m. to 6 p.m. each day. 
"[We spent] a lot of time together," Probst said. "The community of the team is such that it's like a second family and it's very inviting, so we love spending time with each other. I found that the thing that I missed after competition was not spending time with the team for 15 hours every day."
"
The community of the team is such that it's like a second family and it's very inviting, so we love spending time with each other. I found that the thing that I missed after competition was not spending time with the team for 15 hours every day.
— Senior co-captain Fred Probst
With about three quarters of the team being made up of seniors this year, Strickland is hoping to recruit more students to join. However, the remaining students are a strong group.
"It's going to be a rebuilding year," Strickland said. "We have a really good group of younger students that are enthusiastic because of what we experienced at Worlds."
And with the success they found, the underclassmen members of Inverse Polarity cannot wait for whatever new robotics-related challenges the future may bring.
"I'm so hyped [for the Robotics World Championship next year]," freshman Anthea Sun said. "It's 240 days away; I'm already counting down."