Author Jennifer De Leon speaks with freshmen
Author Jennifer De Leon spoke to the freshman class on May 22, discussing topics of race, identity and the power of storytelling.
This year, Freshman English classes read De Leon's book, "Don't Ask Me Where I'm From," a story with themes of race and multiculturalism. The book was implemented into the syllabus last year in an effort to represent more of the student body and diversify the curriculum.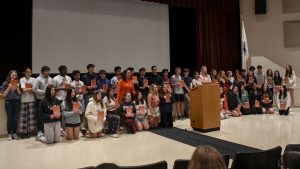 During the presentation, De Leon spoke about her childhood as a first generation Guatemalan immigrant in Boston. Her passion for writing began after reading "The House on Mango Street," by Sandra Cisneros, where she finally saw Latin American culture depicted in literature.
De Leon encouraged the freshman class to get involved with community storytelling, including applying to the Story Bridge Project sponsored by the Northborough-Southborough school district. Applications for this project are due by June 15, and those interested have the opportunity to join a small cohort of local students and adults to learn storytelling skills, while sharing stories with the community.
After the presentation, De Leon took questions from the audience; these topics ranged from specific questions about the book, "Don't Ask Me Where I'm From," to questions about the writing process and the challenges of getting a book published. Then she led a writing activity, where several students volunteered to share their writing based on the various prompts.
Finally, signed copies of De Leon's new book, "Borderless," were distributed to 50 raffle winners.