Through his lens, Jones captures Algonquin's memories
Senior Owen Jones' passion for photography allows him to capture and share important moments and memories at Algonquin.
Jones's interest in photography was first piqued when course shopping for his freshman year. He saw that Algonquin offered a Photojournalism elective and immediately signed up. After taking the class, he joined the Harbinger as a staff photographer. 
After a few years as a staff photographer, Jones  moved on from the Harbinger and began pursuing photography on his own.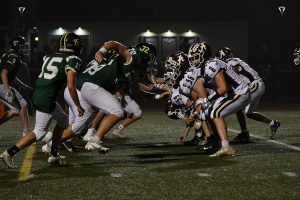 "I wanted to do less journalism and more of posting on my own website and not being restricted by the rules of the Harbinger," Jones said.
Jones, who captures his pictures using a Nikon Z9 camera with Nikon 70-200 lens, uploads all his images to his website, Jones Photo, and his Instagram, @owenjonesphoto for community members to enjoy.
Jones doesn't plan to sell these pictures even though many would pay for them. However, he watermarks his images so people know that he took the picture. 
"I just like being there [at events and games] and seeing all the student-athletes, sitting with each other and seeing them all happy," Jones said. "It's such an amazing and humbling feeling that I can be the person to capture a moment for someone else, and have them be able to look at that photo 10 or 20 years from now…just the thought of that makes me happy."
Jones enjoys capturing these special moments and continues to work hard to improve his skills. By going to a variety of athletic events, school plays and school-sponsored events, Jones has the opportunity to learn and grow as a photographer. 
"Over time, my photos have gotten better slowly as I've learned a lot, but it's all based on experience and pushing myself to go to more and more games made me a better photographer," Jones said.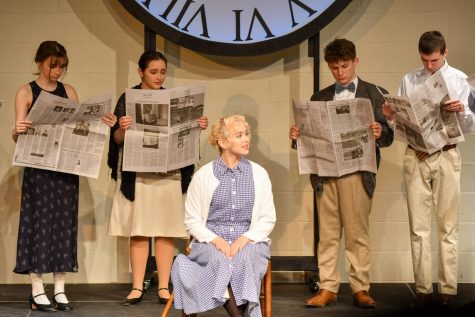 While photographing alongside Jones at many school events, junior photographer Joe Lamburn has witnessed and learned from Jones' passion for photography. 
"He's very dedicated and goes to a lot of games," Lamburn said. "The amount of times he's practiced helps him perfect his craft. I can tell he really cares about photography."
Over the past four years, Jones has photographed many special moments at a variety of Algonquin events, but his favorite photograph came from the 2022 school play, "Radium Girls." 
"There was a clock in the middle with all of the different actors right on the stage," Jones said. "I really think it's a good shot just because I can really feel the mood of the play coming through the picture to me when I see it…even though it's a still [image], I can just remember that moment and say wow, that was a good moment to capture."
As his senior year approaches its end, Jones will continue to capture many special moments for the Algonquin community because of his passion for photography and his love of capturing a memory for someone else.