Q&A: Girls' ski captain looks back on highlights, challenges of season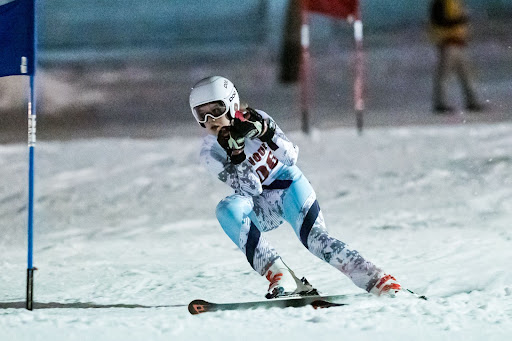 The girls' ski team won the CMASS tournament and ended their season with a 4-1 record, led by senior captain Jula Utzschneider. Utzschneider reflects on the highlights and challenges from the past season.
How was the season overall? What worked for your team and what did not work?
"I feel that the season definitely worked well overall. I think that it was great. This season we went into it knowing we had a smaller team than usual. We only had 21 kids when in the past, we had closer to 50. We were kind of worried about on whether or not we would be able to have a team, have enough people, but I think it ended up working out great because we have a nice team atmosphere. We also got in more coaching individually and I think it worked out really well."
What is your team dynamic like and how do you work together?
"I would honestly say that we work really well together. A lot of us right now are upperclassmen and are all friends with each other but it's nice to bring in the underclassmen. I think that we do work really well together even though it is an individual sport. You kind of come together as a team and want to do better to benefit the team."
What was the most challenging part of this season?
"I honestly think the weather. Skiing is definitely a weather dependent sport and our first three races were canceled because we didn't have enough snow. So I think it was definitely a concern at the beginning of the year not knowing whether or not we would even be able to have enough races." 
What was a highlight of this season for the team?
"It was kind of just having our coach Wayne Hey, it was his last year here, and for seniors, we had him for the last four years and everybody loves him and loves spending time with him, so it was great to see him through his final year."
What players especially stepped up this season and how?
"I would honestly probably say [sophomore] Emmy Beauchesne. I think she's definitely put in the work. As an underclassmen, it can be difficult when you're competing with people that are three or four years older than you but I think that she held her own this year and did contribute to the team score."
What is coming up for the team and what do you think next season will look like?
"There's nothing obviously coming up anymore but I think that next season will be really great. I think they definitely need to get some newcomers into the team because we only have two freshmen this year. I think it's really exciting that our assistant coach this year is coming back as head coach next year so I think that it will be nice. She was an Algonquin graduate so it will be nice to keep the team going."
Editor's Note: This article contains sources who are members of The Harbinger's Editorial Board. Such members have been removed from this article's editorial process in order to maintain fair and bias-free reporting.