Newbould competes on 'The Voice,' launches music career
Class of 2021 alumnus Zach Newbould competed on "The Voice" this past season, quickly becoming a fan-favorite before being eliminated during the Battle round by coach Camila Cabello.
According to Newbould, he auditioned for "The Voice" when he was 15 years old but was denied prior to going on the show. The producers invited him back to compete this season, making the audition process more efficient. 
"I really didn't prepare all that much," Newbould said. "I got my few songs and I did an online audition. I learned them in a few days and went for it. They passed me through, and from then on, there's really not much preparation. You go, learn the song and perform it within a week."
Going into the show, Newbould had Blake Shelton as his first choice and Cabello as his third choice. When selecting a coach, he had the option between Cabello and his second choice, Gwen Stefani.
"I wanted to pick Gwen to begin with," Newbould said. "She was my second pick…but I had this gut feeling I was supposed to go with Camila."
Zach Newbould's brother, sophomore Jack Newbould, enjoyed being able to preview the audition before it aired.
"I got to see 'The Voice' earlier on," Jack Newbould said. "That was pretty cool because it was before anyone else saw it on TV. I knew the results a month early. But it was hard to keep a secret."
According to Zach Newbould, his audition experience was dreamlike.
"The moment that the coaches turned around, my whole body just went numb and I was just like, 'Holy…that actually just happened,'" Newbould said. "It was like when something happens that's so surreal that you don't believe it yet. It was like I was looking at two holograms, because you see these people all the time but you never actually see them in person. It was weird to actually see them sitting there."
Lincoln Street Elementary school chorus teacher Katrina Whalen first inspired Newbould to pursue singing after giving him his first solo. 
"We all had to take chorus in elementary school and I wasn't even really into singing back then," Newbould said. "I would sing at home, but Mrs. Whalen was the one to give me my first chorus solo, which really got me started. [The song was] 'Happy' by Pharrell Williams."
Whalen remembers being surprised by Newbould's voice.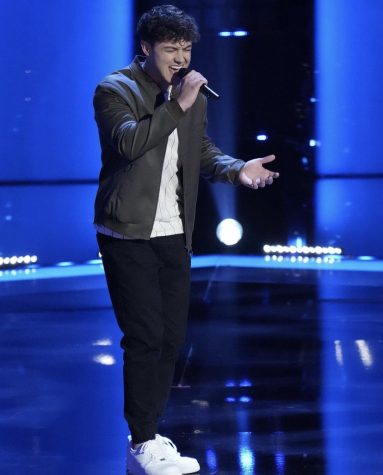 "I kind of had in my mind who was going to audition for that solo and who I might choose from," Whalen said. "He was a little bit of a surprise because he was so quiet, but I remember distinctly, when I heard him singing I was like, 'I need to find a way to make sure he has a solo because this is a beautiful little voice.'"
Although Newbould wishes he was able to stay on "The Voice" longer, he appreciates how much he gained from the experience. 
"Meeting all the other musicians and just being put in that atmosphere makes you so much better," Newbould said. "You pick up little things from different artists and start applying it all to you. It makes you want to get better on your instrument because you see other people who are so good at it."
His time on "The Voice" led to new opportunities for the young artist. Currently, Newbould performs regularly at local restaurants around New England.
"The best part for me is the fact that I can make music my job now because ["The Voice"] made it so much easier to get gigs," Newbould said. "Everyone really loves to hear that you were on 'The Voice,' so it just opened up that avenue."
As of March 15, Newbould has released one song on Spotify, titled "Blue Lights," which was inspired by a realization he had when hanging out with friends.
"After 'The Voice,' I just sat down and started thinking," Newbould said. "I realized that I was out in California doing [the show] whereas my friends were at college. We all met back up and we still all get along but we're all a little bit different and that's what inspired the idea. It was basically just about all the things I'm going to miss, getting older even though I'm not old yet." 
Newbould was enrolled in Quinsigamond Community College for a semester but is currently taking time off from school to pursue music.
"I just want to start pushing music for a few years because I can always go back to school," Newbould said. "I don't want to miss my window for being a musician if that option is there."
Producers for other popular singing competition shows, including "American Idol," have reached out to Newbould inviting him to audition.
"['American Idol'] would be cool because it's more laid back," Jack Newbould said. "I think he'll make it."
In addition to TV, Zach Newbould has been writing more original music, which he plans to release soon.
"His room's right next to mine, so I just hear him singing all the time," Jack Newbould said. "I hear him coming up with stuff late at night. He'll be singing, keeping me up."
Whalen is proud of Newbould. 
"It was just really, really exciting, not for his accomplishments, but just the fact that he's out there following his dreams and doing what he wants to do," Whalen said. "That's the really exciting part for me. He is doing what he really wants to do and that's what makes me the happiest."
Newbould is hopeful and passionate about a career in music.
"I want to be able to release my own music and make a living off that," Newbould said. "I want to tell people stories and get a bunch of listeners, have people want to come see me and be able to sell out venues."