Hopping into Chinese New Year: Celebrating the Year of the Rabbit
Chinese New Year is a 15 day long Asian holiday celebrated this year from January 22 through February 5. It varies each year because it follows the lunar calendar. According to the 12-year Chinese zodiac cycle, 2023 marks the Year of the Rabbit.
Chinese New Year brings forth many customs and celebrations including folklore stories, colorful and artistic festivities, and many traditional foods. 
One of the most well known folklore stories is the Legend of Monster Nian. The folklore is about a monster called Nian who always came into a village on New Year's Eve to destroy homes and to eat the villagers and animals. However, a brave old man was able to save the village and scare away Nian from ever returning by putting up red paper all over the villagers' doors and lighting bamboo like firecrackers to create loud noises to scare away the monster.
Although this is just a folklore myth, the story's message has evolved into an annual tradition where those same practices are still used today to celebrate Chinese New Year.
Chinese New Year usually begins with a lot of preparation, including an annual spring cleaning to sweep out all of the previous year's bad luck, as well as hanging up red banners with auspicious phrases. 
Next, a family gathering is held in order to pass out lucky red envelopes filled with money called "hóng bāo" and to enjoy a family meal. These red money envelopes are considered to be "lucky" because the color red symbolizes good luck for the New Year. Some of the typical dishes served during the New Year include fish, rice cakes, noodles, and dumplings which represent longevity, success, wealth and a good life. 
For junior Janet Guan, Chinese New Year is about spending time with family. 
"I think that celebrating and spending time with my family during the New Year is what makes it special," Guan said. "We get to hang up decorations around our house and make dumplings together."
The tradition of the Lantern Festival, which occurs this year on February 5, includes lighting lanterns, eating glutinous rice balls called "tāng yuán" and watching a lion dance parade.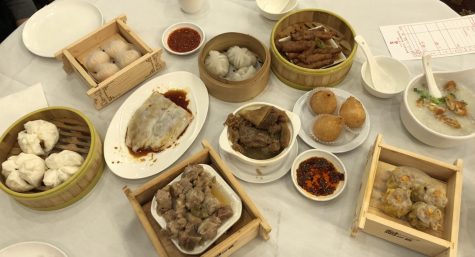 A lion dance parade is an event where performers wear lion costumes and dance around city streets tossing out oranges and cabbages to represent good fortune and luck. Restaurant owners will give red money envelopes to the performers as a way to hope for good fortune to the restaurant. A group of musicians with gongs, cymbals and drums will accompany the "lions" as they parade down the street setting the beat for the lions' movements. 
For senior Madeline Jiang, Chinese New Year represents solidarity and being able to immerse herself into her Asian heritage. 
"It's a really great time of year for me and a lot of people my age in the Asian community," Jiang said. "Going to a public school such as Algonquin or even any public school in Massachusetts, there aren't a lot of Asian American students or even students familiar with the culture, the holiday, or the food. I think it's nice that even if it's just for one weekend, I get to really immerse myself in that culture for like 48 hours."
Jiang and her family have many traditions during Chinese New Year, including a special community gathering.
"My family and I go to one of those talent show type gatherings where anyone in the community will perform something," Jiang said. "This year, I saw a seven year-old girl sing opera and it was so amazing and mind blowing. I usually play the piano or violin at one of those gatherings and sometimes people dance at the end, and it's really silly and lighthearted."
According to the Boston Discovery Guide, this year's Chinese New Year parade will be on January 29 from 10 a.m. to 3 p.m. beginning at Phillips Square. This parade is family friendly and allows people to stroll the streets of Boston's Chinatown and watch the lion dance performance first hand. Xīn Nián Kuài Lè (Happy New Year).