REVIEW: 'Solitaire' by Alice Oseman is a heart-pumping novel
"My name is Victoria Spring. I think you should know that I make up a lot of stuff in my head and then get sad about it. I like to sleep and I like to blog. I am going to die someday."
Victoria's monologue from the novel "Solitaire" by Alice Oseman is about the main character, Victoria (Tori), and her everyday life. She has a sarcastic personality that many can fall in love with. Her pessimistic deadpan humor truly shines when interacting with others. 
One day, Tori, a year 11 student, finds a post-it where she stumbles across a secret group called Solitaire that pulls pranks on the school. From playing music in the halls to messing with the principal, everyone seems to get amusement from them. Tori, who attempts to reveal the truth behind the group, must juggle between her old childhood friend Lucas Ryan, new friend Micheal Holden, and everything that occurs within her personal life.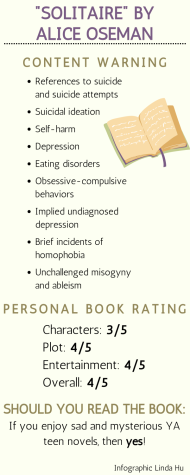 Queer author Oseman is also the creator of "Heartstopper", a well-known and successful comic that has recently gone viral among LGBTQ+ teens due to the recent Netflix adaptation. Her other works include "Radio Silence", "I Was Born for This" and "Loveless." Each novel portrays queer representations and realistically delves into mental health.
Oseman's writing is engaging, with precise word choices and elegant descriptions that leave a long-lasting image in readers' minds. One thing that stands out the most within all her stories is her courage to handle hard-hitting topics. For "Solitaire", she heavily suggests any willing readers should consider the content warning before diving into the novel. There are references to suicide and suicide attempts, suicidal ideation, self-harm, depression, eating disorders, obsessive-compulsive behaviors, implied undiagnosed depression, brief incidents of homophobia and unchallenged misogyny and ableism.
In "Solitaire," there are no cliche accidents that end with a perfect happily-ever-after. However, despite the author's promise on the cover that the book isn't a love story, there is a developing romance within the book between Tori and Michael. The two have a slow, awkward beginning and mostly stay platonic. Their strictly platonic relationship had charm and was entertaining to witness. There is a romantic twist at the end, which leaves many confused and misdirected when seeing their conclusion.
In Oseman's works, they write about different types of people, creating relatable characters for everyone. Tori is internally judgmental at times and prefers to be alone. She is a Myers-Briggs INFJ, which can be relatable to many with similar personalities. According to the Myers-Briggs INFJ website, "[INFJs] inner vision, personal values, and a quiet, principled version of humanism guide them in all things." However, Tori's cold pessimistic thoughts could easily be interpreted as an asexual stereotype, which may be upsetting for anyone who falls on the spectrum. These negative stereotypes could harm any new or questioning queers trying to figure out labels. 
"Solitaire" highlights the ups and downs of every high school experience, but with a twist of mystery. This novel is enjoyable to anyone who enjoys dark, mysterious and angsty YA novels. Readers who resonate with Tori will instantly fall in love with her story. The story would appeal to any queer teens and especially "Heartstopper" fans.