REVIEW: 'Stranger Things' is back and better than ever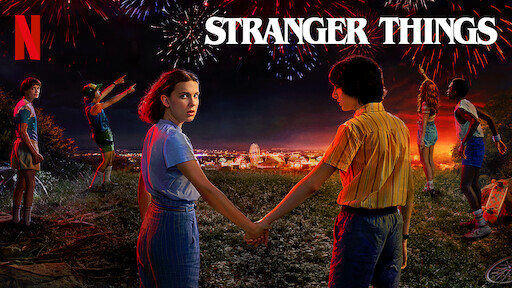 Grandfather clocks, Russian work camps and Dungeons and Dragons. After almost three years, a new season of "Stranger Things" was released on Netflix on May 27 and it's clear this season is one-of-a-kind.
Season four of this popular drama series introduces many new characters and storylines while also preserving the plots introduced in earlier seasons. Viewers are taken to a wide range of unique settings from Nevada to Alaska and get to experience the show in a completely new way. The show is a suspenseful, eerie and thrilling journey disguised by the bright colors and catchy eighties music. 
"Stranger Things" explores the small town of Hawkins, Indiana in the 1980s. Among the main characters are average, nerdy teens Mike Wheeler (Finn Wolfard), Dustin Henderson (Gaten Matarazzo), Will Byers (Noah Schnapp), Lucas Sinclar (Caleb McLaughflin), Max Mayfield (Sadie Sink) and their friend with supernatural powers, Eleven (Millie Bobby Brown).  In past seasons, these main characters explored an alternate dimension called The Upside Down and fought the threats that emerged from it.
This season, Hawkins residents Dustin, Max and Lucas uncover some vital information about The Upside Down. Across the country, Eleven, Mike and Will deal with bullies, superpowers and the law. Additionally, the former Hawkins police chief, Jim Hopper (David Harbour), is trapped in Russia after being assumed dead. Despite the time gap in filming seasons three and four that caused many of the teenage actors to significantly surpass their character in age, characters' personalities and appearance correspond well to the previous seasons.
This show has undoubtedly already had a major impact on its audience. One song featured in the show, "Running Up That Hill (A Deal With God)" by Kate Bush, has seen a huge increase in popularity and currently sits at number eight on the Billboard Hot 100. The song was released in 1985 but the key role it plays in the story has returned it to the spotlight so many years later.
One of the main strengths of the show is its characters. All the new characters introduced were perfectly cast. The casting of Jamie Campbell Bower adds a creepy and captivating spin to the plot. Joseph Quinn makes everyone fall in love with his eccentric character Eddie Munson, and Eduardo Franco was flawless when playing his goofy, comic-relief character Argyle. Each new cast member brought their own unique spin to the storyline and made the show so much more entertaining when doing it.  
Returning characters also lived up to the high expectations brought by previous seasons. Although each cast member did an incredible job, it is important to highlight Sink's portrayal of Max. Her character had arguably one of the most complicated storylines out of everyone this season. From reliving past traumas to just simply trying to make it through high school, Max did it all.  Despite the challenge, Sink was able to rise to the occasion and give the performance of a lifetime. 
In the past, the show has done a fantastic job bringing the eighties to life. From the soundtrack to the wardrobe, "Stranger Things" has always succeeded in delivering a retro vibe. However, the eighties theme was elevated in the setting of a California town called Lenora Hills. Colors were brighter, hair was bigger and there was even a roller rink scene. It was almost overwhelming how much the show screamed eighties. 
The show's one flaw is its complexity. A viewer trying to understand the series based off season four alone would be utterly and completely lost. Plots rarely overlap until the last few episodes, so for the majority of the season viewers need to rely on themselves to not forget crucial details. It can be overwhelming for even an experienced viewer. However, a few moments of confusion are well worth it once the separated plots begin to link up, and nothing beats the fulfilling feelings the conclusion reached by episode seven brings.
Season Four, Volume two comes out on July 1, 2022 and based on volume one, things are going to get strange.