Algonquin alumnae take action in response to Uvalde shooting
Two Algonquin alumnae, Sarah Saeed and Kathryn Zaia, organized a protest against gun violence on May 29 at the Northborough Town Common in the wake of the Uvalde shooting.
Saeed and Zaia, both class of 2021 alumnae, have past experience organizing protests. They oversaw a Black Lives Matter protest on June 6, 2020, and have devoted much of their time to activism. Saeed is currently a student at Worcester Polytechnic Institute and Zaia attends Wellesley College.
"We decided that we wanted to bring the community together to both commemorate and to call them to action," Zaia said.
The protest opened with John Denver's "Sail Away Home", performed by Carly Mahowald, a resident of Northborough. Fellow class of 2021 graduate David Gillingham said a few words about each of the 21 victims of the Uvalde shooting as well as the 10 victims of the May 14 shooting in Buffalo, New York. 
His words were followed by speeches from Saeed, Zaia, and two current Algonquin students, junior Sara Medina and sophomore Ava Arcona. Saeed and Zaia went on to deliver speeches written by class of 2019 graduate Mariam Ibrahimi and class of 2021 graduate Kaitlyn Desio. 
Saeed believes it is important for young people to both organize and speak at the event.
"These are things that affect us, and these are things that are going to continue affecting us if we don't make some kind of change," Saeed said.
Over fifty people attended the protest, two of whom were Massachusetts State Representatives, Meghan Kilcoyne and Danielle Gregoire. Saeed urged them to advocate for gun control legislation as a way to set a good example for states with looser gun laws than Massachusetts.
"There are no words to describe how angry we are about [Uvalde], and that's why we continue to act here in Massachusetts, and why we have the strictest gun laws in the country, and why we have the lowest gun violence rate," Gregoire said.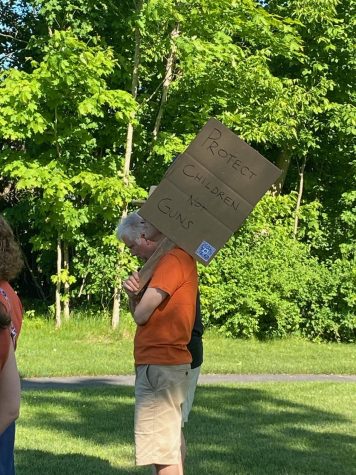 Though the various speeches all addressed different facets of school shootings, with Medina's concentration on mental health and Gillingham's focus on the lives of those killed, there was a common theme: lack of gun control in the United States.
"There's a wealth of issues and a wealth of reasons that school shootings happen and they're all important," Gillingham said. "They all need to be dissected. The easy one is just looking at common sense gun legislation."
Saeed and Zaia both emphasized that protests don't have much of an impact if direct action isn't taken afterward. Gregoire believes that putting gun control legislation in place throughout the entire country would be difficult, but not impossible. She thinks that even the most basic of laws could help prevent future incidents of gun violence.
"The shooter in Texas waited until he turned eighteen to get his hands on that gun legally, so we're not going to say laws don't matter," Gregoire said.
Saeed and Zaia encouraged citizens, especially the younger generation, to take action and lead the movement toward ending gun violence. They concluded the protest by sharing resources for people to send emails to their representatives and get involved in activism in other ways.
"A lot of people will say that young people are the future," Gillingham said. "And there's a reason that people say that. It's because it's true."