Relay for Life hosts first in-person event in three years
For the first time in three years, the annual Relay for Life event was held offline, on the Algonquin track on Friday, May 13.
Relay for Life is a fundraiser for the American Cancer Society meant to symbolize the never-ending fight against cancer. The fundraiser ran from 6 p.m. to 6 a.m and featured many activities and ceremonies. Members could create or join a team, and during the event, participants of each team took turns walking around the track, with one person from each team walking at all times. 
"It really is a special day," mathematics teacher and club adviser Lauren Hesemeyer said. "We're all in a good mood, we're there for a good reason and it's just really special to see everyone there together."
According to Spanish teacher and club adviser Sarah Lawlor, the fundraiser has not been the same since COVID. As of April 18, the club had raised $3,896. 
"I would definitely say it has not been as successful a fundraiser for the last two years because it's not an actual in-person event, so people couldn't do much around it," Lawlor said.
Another result of COVID is that all of the club's leaders, known as leads, are juniors.
"We try to have a sophomore, junior and senior [as the leads] so that the sophomore and junior are training under the person who's a junior or senior so they can take the lead next year," Lawlor said. "Because we haven't had an in-person event in a few years, all three of our leads this year [juniors Elenna Peroni, Keira Zides and Shira Shemer], are juniors. It's really their first year being in charge and going to an actual in-person event, so I think that there's a lot that they will learn when they're there."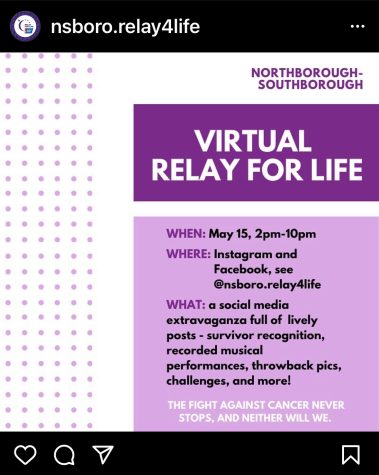 Hesemeyer, who attended Algonquin as a student, believes Relay for Life is not as big as it used to be, but predicted that it would have a good turnout this year.
"When I was a student here, and participated in Relay for Life, a lot of the student body went to the event; it was the place to be," Hesemeyer said. "We all came together for that common cause of supporting those who are affected by cancer and fundraising money for them. Now, I think it's hard to get students involved. I think it's bringing back some of the old classic traditions and we're really pushing for more students to be involved, not just in the club, but to attend the event. Every year we're working more and more to promote the event to the entire student body, and it's also open to the town, so we're trying to better advertise it. I think we're going to have a good turnout this year."
In addition to walking around the track, Relay for Life hosts and features a survivor dinner before the event, opening ceremonies, a speech delivered by a cancer survivor (junior Alyssa Sbordone), a speech delivered by a caretaker (junior Audrey Richardson) and a luminaria ceremony during which participants crack glow sticks and put them in bags on the track.
"I love the luminaria ceremony," Lawlor said. "It's really nice because my father suffered from cancer, and you know other people are going through it, but until everybody's together, you don't realize how big of an effect it has on a lot of people. It's always nice to come together with people who've had a shared experience."
Both advisers enjoy hosting the event and love seeing the community come together for a common cause. 
"That [luminaria] ceremony gives me the chills," Hesemeyer said. "Every year. It never fails. We light up the track with some glow sticks and we put them in the luminaria bags to represent who we're relaying for, so that's one of my favorite parts as well."
Relay for Life is especially significant for Hesemeyer, who has been participating in them her whole life.
"Both my mom and my grandmother worked for hospitals as cancer abstractors, so they basically reviewed every cancer case that entered the hospital." Hesemeyer said. "They both worked at Saint Vincent, so at an early age my mom and grandmother would take me to local Relay for Life [events]. We'd go to multiple, we'd go to each town's event and we'd support every Relay for Life going on. It was just a tradition ever since I was little. The hospital would also host a National Cancer Survivors' Day celebration, so I would volunteer at the hospital with them even at the age of six years old. When I was in middle school, my mom had breast cancer, and she's a survivor. Just two years ago, my grandmother passed away from lung cancer, so I was her caregiver and I helped take care of her almost every other day of the week. So it plays a big part of my life; I started at a young age and in my later life it ended up affecting me directly. It's a lot, but I love doing [Relay for Life]."